The best memory config for a Core i7 CPU
All the options tested
Memory speed and overclocking Core i7
When you overclock a Core i7 965 or 975 Extreme, you have the option of raising the multiplier. However, anyone with a Core i7 920 is obliged to raise the 133MHz base clock speed as the clock multiplier can't be raised above the standard 20x speed.
PCMark Vantage Results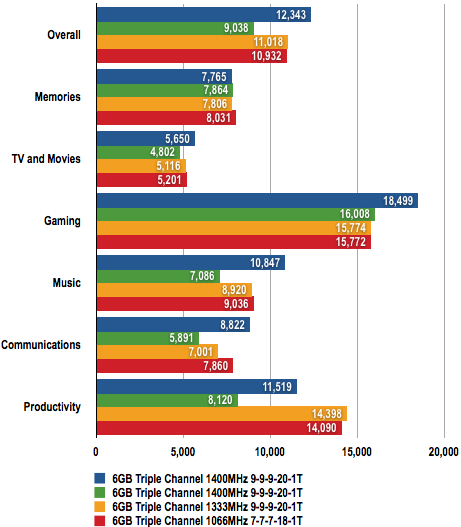 Longer bars are better
For this set of test runs we switched to an EVGA X58 SLI motherboard as the overclocking options are relatively limited on the Intel DX58SO. As we were going to overclock the memory, we switched from the Qimonda 1066MHz DDR 3 to OCZ Reaper 1800MHz DDR 3. This happens to be a 3x2GB kit, so we installed 64-bit Vista on the Intel X25-M SSD.
We ran the Core i7 at three different base speeds and dropped the clock multiplier to keep the processor clock speed constant. For the first run, we tested the Core i7 920 at the standard speed 2.66GHz (20 x 133MHz) with the memory running at 1066MHz. Next we raised the base speed from 133MHz to 166MHz and dropped the multiplier to give a speed of 2.66GHz (16 x 166MHz) which raised the memory speed to 1333MHz. The increase in memory clock speed slowed the SPD settings from 7-7-7-18-1T to 9-9-9-20-1T. However, the memory bandwidth was increased and the latency reduced. This is all good positive stuff but the effect on system performance was negligible.
For the next step, we raised the base clock to 175MHz and reduced the multiplier to 15x for a processor speed of 2.63GHz and a memory speed of 1400MHz. There are 'natural' speeds for memory that are set in the SPD.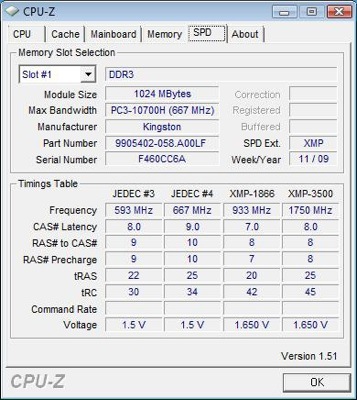 For most DDR 3 chips, these speeds will include 1066MHz, 1333MHz, 1600MHz and 1866MHz, while odd speeds, such as 1400MHz, tend to throw things out of kilter. On these settings, the memory bandwidth increased slightly. However, the system performance dropped quite markedly. The object of this particular exercise was to overclock the Core i7 920 so we reset the clock multiplier to the standard 20x figure while keeping the base clock at 175MHz and the memory still at 1400MHz which raised the processor speed to 3.50GHz. That's a healthy overclock from 2.66GHz and the extra performance is impressive but running the memory at an unnatural speed hurts performance.
SiSoft Sandra Results
Bandwidth

Memory Bandwidth in Gigabytes per Second (GB/s)
Longer bars are better
Latency

Memory Latency in Nanoseconds (ns)
Shorter bars are better
Verdict
Overclocking your Core i7 is a very good idea, but the memory speed is merely a tool that helps to unlock the performance in the processor.
Sponsored: Minds Mastering Machines - Call for papers now open