iPhone v Pre - the celebrity smartphone deathmatch
Every feature unearthed, every quirk revealed
Now it gets weird
Searchability: Here's where things get a bit weird. The iPhone wants you to browse to find things - although the new Spotlight search supplements that method of navigation. The Pre, on the other hand, wants you to search for stuff. (Ars Technica, by the way, has an well-reasoned article on the philosophical underpinnings of these two approaches).
The iPhone's search is a straightforward utility that you access by flicking to the left of the home page. You type in your query and are presented with whatever matches - be it a contact, app, email sender or subject, or calendar event.
The Pre introduces two concepts that affect its searchability: Palm Synergy and Universal Search. The problem with the former is that it's marred with version 1.0 wrinkles, and the problem with the latter is that it isn't - universal, that is.
Palm Synergy attempts to meld all of your contacts from disparate sources - Facebook, Google, Exchange, iCal, and Address Book, for example - and mash them up into a single über-contact list. When Pal Synergy finds duplicates, it attempts to meld them into single entries, combining the data on each into one record.
And it does a pretty good job. However, if you - like I - have well over a thousand contacts, "pretty good" doesn't feed the bulldog. You can delve into the Pre's Contacts app and manually combine Synergy-missed duplicates into single records, but doing so is tedious and time-consuming.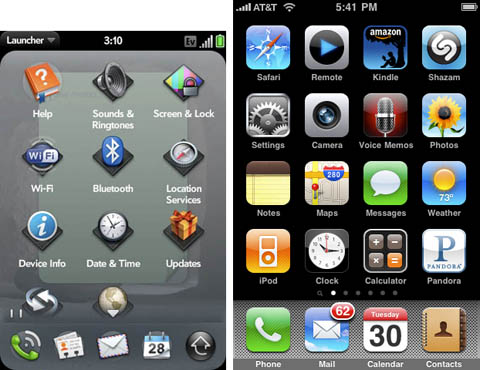 Few apps can be seen on one of the Pre's three Launcher screens (left), compared with many more on one of the iPhone's 11 home screens (right) - so search, don't browse
What's worse is that there's no way to separate contacts imported from one account from contacts imported from another. Your Facebook contacts, for example, sit right next to your Exchange contacts in the aforementioned über-contact list.
You'd think that combining all those contacts into one megalist would create one long, difficult-to-scroll-through list - but it's actually worse than that on the Pre.
Contrast the Pre with the iPhone's contact list, which includes the alphabet running down the right side so that tapping a letter in that list jumps you to contacts beginning with that letter. The Pre's contact list, even though it's composed of everyone in your known universe, has no such shortcut.
The Pre doesn't want you to scroll. It wants you to search. To find a contact, you can scroll if you want, but the Pre would prefer that you begin typing on that benighted keyboard, and it will immediately narrow the list down to contacts that match your entry. The iPhone will do the same, but it also offers the opportunity to use that alphabet UI.
This search-not-browse attitude suffuses the Pre experience - which leads us to Universal Search.
Whenever there's no active app - either none has been launched or all have been minimized - typing on the keyboard begins a Universal Search. Universal Search will then list all the contacts and apps that begin with the typed letters, contacts who work for companies that match the letters, even contacts whose first and last names begin with two typed letters.
For example, typing "in" will bring up the app named Device Info, contacts who work for Intel, plus Ingmar Bergman, Izzy Neustein, and Robert Indiana. What it won't bring up, though, are any email messages with "in" in their subject or sender field, nor calendar events with "in" in their subject lines.
Search-not-browse also points to why there are no Favorites in the Pre's dialer, and why there are only three screens in the Pre's application Launcher, each of which can only display nine app icons and names before you have to scroll to see more. The Pre wants you to find both contacts and apps by searching for them using Universal Search.
The iPhone allows you to search for apps using its Spotlight search function, but it also gives you up to 11 home screens of 16 apps each, none of which needs to be scrolled to allow you to see more.
Universal search may be powerful, and with some refinements it should become even more so, but I prefer the iPhone's "have it both ways" attitude towards finding what I want.
Searchability advantage: iPhone 3GS