iPhone v Pre - the celebrity smartphone deathmatch
Every feature unearthed, every quirk revealed
Out iPodding the Pod
Audio playback: You'd think that the inventor of the iPod would provide a better mobile-music experience than the inventor of the PDA - but you'd be wrong.
The iPhone's iPod app and the Pre's Music app organize audio content Artists, Albums, Songs, Genres, and Playlists. The iPod app adds Composers, Podcasts, Audiobooks, and Compilations to its list of categories and includes among its playlists Just Added and Recently Added content, plus On-The-Go and Genius playlists - should you be one of the rare birds who use those two capabilities.
Both phones offer easy access to all the tunes you've loaded onto them, both display album art where appropriate, and both ship with unimpressive-yet-serviceable earbuds. The Pre adds a nifty way to scroll through an album's song to choose while playing, and the iPhone has better song-length and volume indicators and controls.
One less-important point. Although the Pre's internal speaker - a relatively impressive 15mm grill on the back of the device - certainly appears as if it should sound better than the iPhone 3GS's paltry bottom-mounted slit, it doesn't. The iPhone is distinctly louder and richer when playing through the speaker - a trait that shows through again when using the devices as speakerphones.
It's the Pre multitasking capability - more on that in a moment - that edges its music player over that of the iPhone. Unlike essentially all other iPhone apps, the iPod app runs in the background, leaving you able to listen to music while performing other tasks - although in an undocumented feature, to silence an iPod tune you can double-click the home button, then either choose to tap the "shut up" pause icon, open the iPod app, or exit with no changes.
The Pre's Music app, like all Pre apps, runs on its own in the Pre's multitasking world. Not only can you continue to work in other apps while listening to tunes, to access the Music app you need merely to tap a small musical-note icon in the lower right corner of the display, and music-transport controls appear. Tap to pause, and you're done - and you never left the app you were working in. Nice.
Audio-playing advantage: Pre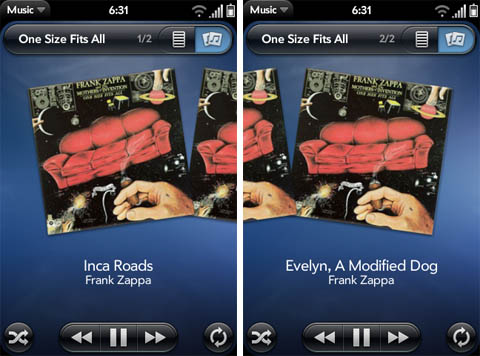 In the Palm Pre's Album view, just flick from one song (left) to the next (right)
Phone operation: You've read well over two thousand words of this smackdown tome, and finally, we're getting to how these two phones actually work as phones. That's either a tribute to how rich these handhelds are, or a knock on your humble author's organizational abilities.
Simply put, as phones, both the Pre and the iPhone 3GS work just fine. Call quality is good, and connection quality is more a function of their carriers than of the phones themselves - and a discussion of the Pre's Sprint versus the iPhone's AT&T is a can of worms we'll open on a different day, thankyouverymuch, except to reiterate that The Reg is none too pleased with AT&T's inability or unwillingness to yet support the iPhone 3GS's MMS and internet-tethering capabilities.
The dialing displays for the two phones are similar, although I prefer the straightforward button labels of the iPhone over the Pre's tricky icons - an extremely minor matter, to be sure, but a style point.
Where the Pre falls down is its nearly inexplicable lack of a "Favorites" capability for frequently dialed numbers, which the iPhone not only supports, but allows you to access through two clicks of its main button. You can kludge your way around this Pre limitation by using your call log, assuming that you call your faves on a frequent basis, but as Gertrude Stein might have said, a kludge is a kludge is a kludge.
Voicemail is also a big win for the iPhone. Its Visual Voicemail - supported by most if not all carriers - allows you to pick and choose which messages you want to listen to, delete, or return. After you've used it, the Pre's old-fashioned linear "to erase, press seven" style voicemail is sooooo 20th century.
To wallow in the trivial for a moment, the Pre's ringtone selection is an embarrassment, with 10 boring tones to the iPhones 25 - of which, admittedly, only half or so are reasonable. More importantly, the Pre's ringer simply isn't as loud as that of the iPhone 3GS - if you carry yours buried deep in your purse, you may very well not hear it at all. And then you'll have to dig through that 20th century voicemail system because you missed your significant other's call.
Phone-operation advantage: iPhone 3GS