iPhone v Pre - the celebrity smartphone deathmatch
Every feature unearthed, every quirk revealed
Hardware and Software
Before I dig into what really distinguishes the Pre from the iPhone 3GS - their software and operating systems - let's take a side trip into where software and hardware combine. For example...
Still camera: Last week, I wrote a comprehensive review of the cameras in the Pre and three different iPhone/iPhone OS combos. It turns out that the Pre I used for that review was borked. I've since done the same tests with a new Pre and discovered none of the color-cast problems that I experienced with the first unit.
The Pre's camera has one main advantage over the one in the iPhone 3GS: an LED flash. Although low-light pictures taken with it are still noisy, it's nice to have in a pinch.
More problematic is the Pre's tendency to aggressively sharpen images. When we asked DXO Labs about the highly sharpened images that their software provides the Pre, they told us that the "choice was made to set the sharpening intensity to a level which does not require the user to post-process the images." There's no user-configurable sharpening control on either camera, by the way.
So it's your call. If you want your pictures pre-sharpened, choose the Pre. If you want them relatively soft, and sharpen them they way you want in Photoshop or elsewhere, choose the iPhone 3GS. We're guessing that most casual users will prefer the pre-sharpened Pre.
One last camera note: The iPhone's closing-shutter animation is a welcome indicator of camera activity, especially in loud, bright environments where the Pre's less-obvious blinking off of the camera controls and both camera's shutter sounds are not enough.
Still-camera advantage: Pre
Still-image playback: Both phones display images in rich color and at the same level of brightness, both store them in easy-to-navigate folder structures, and both allow you to easily flick through a folder image-by-image. Images on the Pre, however, consistently take a brief moment to transform from pixelated preview to sharp final - the iPhone doesn't have that problem. Also, the iPhone offers a slideshow capability, which the Pre lacks.
Still-image playback advantage: iPhone 3GS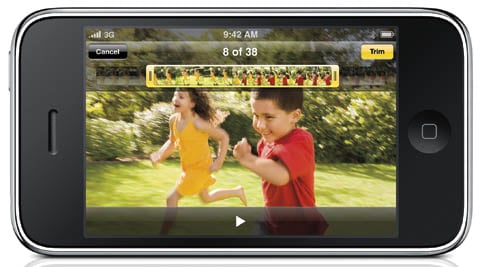 The iPhone 3GS's video editing may be basic, but it's better than the Pre's, which is nonexistant
Video camera: This one's easy - the iPhone 3GS can capture video, the Pre can't. The iPhone's video camera may not be capable of capturing finely detailed and subtle images, but at least it exists.
Video-camera advantage: iPhone 3GS
Video playback: Both phones play full-motion video, with the Pre supporting MPEG4, H.263 and H.264, and the iPhone MPEG4 and H.264 in various flavors. As long as the video files are properly encoded, playback goes without a hitch - I used Apple's QuickTime Pro to export video in iPhone .m4v format, which worked fine on both phones.
The iPhone 3GS plays video you shot using its camera in its Photos app - a bit counter-intuitive, but it works just fine - and videos you bought or loaded into it over iTunes through its iPod app. The Pre plays video through its more-logically named Videos app. You can load videos either in Media Sync and USB Drive modes, as mentioned above.
Both phones play YouTube videos, but the Pre can't mark favorites, do one-touch emailing, rate videos, flag them for inappropriate content, or read or add comments. Frankly, who cares?
Video-playback advantage: A tie
Audio recording: Another easy one, seeing as how the iPhone 3GS includes a Voice Memos app and the Pre doesn't include any recording function whatsoever - although it's safe to assume that such an app may very well appear from an enterprising third-party developer once Palm gets its software SDK act together.
Audio-recording advantage: iPhone 3GS