iPhone v Pre - the celebrity smartphone deathmatch
Every feature unearthed, every quirk revealed
More keyboard contempt
One last dig at the Pre's keyboard. Having a physical keyboard prevents apps that require it from being rotated into landscape mode. Neither the Pre's Memos nor Mail apps can rotate. That's not a problem for Memos, but it would be good to be able to rotate some email messages to be able to more easily read those with images or in HTML. Not possible. You can't type sideways.
The soft keyboard on the iPhone may take some getting used to, but you'll soon be typing away at a decent clip - if not at BlackBerry speeds. However, with predictive spelling and the ability for the keyboard to change contents contextually - adding a ".com" key in a URL context, for example - and to grow in width when the phone is rotated, the iPhone's keyboard easily trashes the Pre's Lilliputian loser.
Keyboard advantage: iPhone 3GS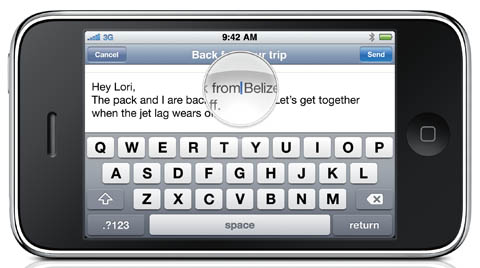 The iPhone 3GS keyboard with magnifying-glass cursor placement is easier to use than the Pre's hardware model
Display: The iPhone's display is only slightly larger than that of the Pre - 3.5 vs 3.1 inches (89 vs. 79 mm) - but that slight difference certainly makes it appear bigger, especially when viewing videos. That said, both displays have a resolution of 320 by 480, so a web page's displayed area, for example, remains the same when viewed full-screen.
Display brightness is essentially equal between the two devices, as is their susceptibility to glare. The Pre's display tries to defeat glare by being ever-so-slightly rounded, but not enough to provide any perceptible benefit.
But the Pre's display is susceptible to two things that the iPhone's isn't: scratches and finger oil. The Pre's display is ineffectively protected by clear plastic, which on one of my test Pre units developed a small scratch even though I babied it shamelessly.
The iPhone's display is effectively protected by glass - you have to work hard to scratch it. The iPhone's display also has an oleophobic coating that does an effective job of keeping it relatively oil-free even after being avidly fingered for hours.
Oh, and you'll notice that a paragraph or so ago I said "one of my test Pre units." Now is as good a time as any to mention that the first Pre that Palm sent me to test was a lemon, with an off-color display that discolored video and photo playback, shaky Wi-Fi connectivity, and shot-by-shot color-cast inconsistencies that bedeviled its built-in three-megapixel camera. Sigh...
Let's hope that Palm gets its quality-control act together before you buy one. If you buy one.
Display advantage: iPhone 3GS
USB drive: When you hook up a Pre to your computer using the supplied USB cable, you're presented with three choices: Media Sync, USB Drive, or Just Charge. The former fools iTunes running on your Mac or PC into thinking that your Pre is an iPod and allows you to use iTunes to load tunes and video (DRMed iTunes tunes are, of course, verboten). Just Charge is rather self-explanatory.
But that middle choice, USB Drive, is a reminder of something that iPods have that the iPhone doesn't: the ability to act as a USB drive. Not only is this a convenient way to carry files between, for example, home and office, but in the Pre's case, it's also an easy way to load songs and videos (see "Video playback," below).
You can turn the iPhone into a USB drive, but you'll need third-party software such as Ecamm Network's PhoneView or DigiDNA's DiskAid to do so.
USB drive advantage: Pre
Battery: Although I didn't run any well-defined benchmark testing, the Pre's battery seemed to poop out under heavy use just a little bit sooner than the iPhone 3GS's, perhaps because it runs background apps.
The one big plus in the battery column for the Pre, however, is that its battery is user-replaceable. Yes, the back cover is a complete pain in the butt to remove, but I'll gladly deal with a broken fingernail in exchange for the ability to replace a battery myself.
Battery advantage: Pre