Buffalo Linkstation Quad
Nas simplicity and versatility, but at a price
To complete the package, Buffalo bundles Memeo AutoBackup software for use with the Linkstation Quad. This is an easy-to-use and blessedly unsophisticated program for scheduling automatic backups from the computers on the network to appropriate shares on the Nas.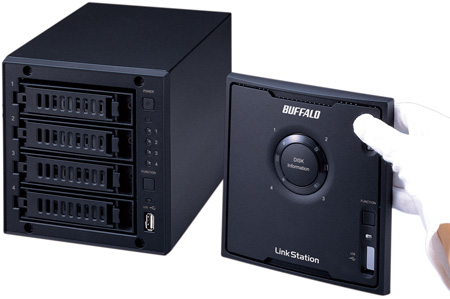 The front fascia is only there to keep the dust out
You can also use the web management interface to establish an automatic schedule for backing up shares on the Nas itself to an external, USB-attached storage device. Mac users will be pleased to note that the Linkstation Quad supports the Time Machine automatic backup feature in Mac OS X 10.5. However, it appears that you can only set it up with one Mac on the whole network. There seems to be no way of linking different shares as Time Machine volumes to different Macs.
Verdict
The Linkstation Quad is a powerful and well-built product that also happens to be fairly simple to configure and manage. Home users wanting high capacity storage options, hardware versatility and a good web-based interface should like the product very much, as will demanding small offices having to deal with large quantities of data. The only drawback is that once you take full advantage of the RAID support, the Linkstation Quad looks expensive next to single-drive consumer Nas drives of similar capacity. ®
More Nas Reviews...

Buffalo
Terastation III

Western Digital
Sharespace

Cisco Linksys
Media Hub

EZY Technologies
MyXerver MX3600

Buffalo Linkstation Quad
Happy in the home and powerful enough for business with its RAID options with comprehensive Nas functions.
Price:
1TB £360, 2TB £430, 4TB £590, 6TB £860, 8TB £1290 RRP