Buffalo Linkstation Quad
Nas simplicity and versatility, but at a price
Performance varies depending upon how you have configured the disks but our tests suggest that overall performance is very good. Random data read/write transfers between a client computer and the Linkstation Quad in a raw RAID 0 setup across gigabit Ethernet were two to three times faster than for equivalent benchmarks run on a high-capacity USB 2.0 drive attached directly to the same computer.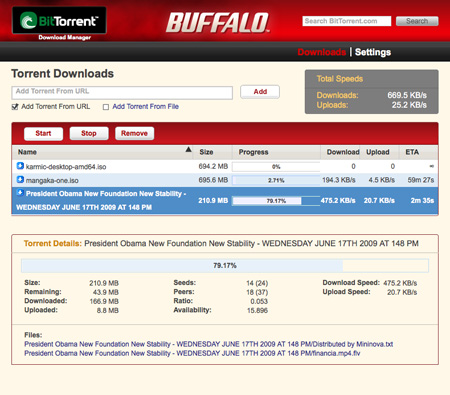 Torrents can be downloaded on the Linkstation without the need to have a PC running
However, the product's strongest attraction is its reasonably straightforward web-based management interface: the screens are big and friendly and are full of information and directions. A separate utility lets you mount shares and optionally assign a fixed IP address from any computer on the network, but everything else can be done using a web browser. User and group management is presented clearly, and setting up shares is fairly intuitive.
A media server is built into the Nas – streaming music and movies to DLNA-compatible players. Our Playstation 3, situated in another room, detected the Linkstation Quad across WiFi within seconds of the media server feature being enabled. HD movies streamed over perfectly.
To this end, the device also provides a built-in BitTorrent client for obtaining and sharing large files. It is a full client, too. You can search for Torrents and initiate downloads right within the web interface, and we achieved more success with it than with any other Nas BitTorrent client we have tested to date. Furthermore, the Linkstation Quad continues managing your Torrents without the need to have any of your computers switched on.
For general file data use, the product works well. With SMB, CIFS, AFP and FTP protocols built in to the unit, you can happily support Windows, Linux and Mac clients, both locally and remotely. You can also set up password-protected shares to be remotely accessible across the Internet via a web browser interface, which actually works rather well – much better than FTP, in fact. The web address for the share can be hosted via your own domain or diverted for free via Buffalo's own name servers.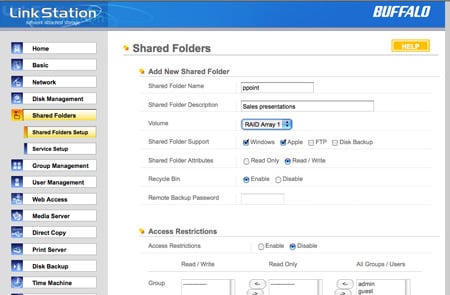 Buffalo's web-based configuration utility makes Nas setup reasonably intuitive.
The one thing we could not do was connect to the device over the web using an iPhone, even though this capability is prominently featured in Buffalo's marketing materials. Nor is this mentioned anywhere in the user manual. Also, in its marketing material, Buffalo says the device is also fully compatible with iTunes – that is, you can keep your music files on the Nas – but this is not mentioned anywhere in the product manual.
Sponsored: Minds Mastering Machines - Call for papers now open