Apple MacBook Pro 15in June 2009 release
Faster and cheaper - whatever next?
Windows running on the MacBook Pro can only use the 9600M GT graphics chip, and this performed pretty well in our tests. It certainly matched most of the PC laptops we've reviewed recently, with the exception of the high-end Toshiba Qosmio X300 gaming laptop, which costs well over £2000 and is equipped with an SLI graphics rig.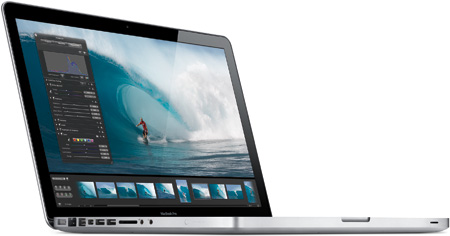 Dual GPUs allow for battery life/performance trade-offs.
The disadvantage of using the 9600M GT is that it knocks about an hour off the battery life, compared to the less power-hungry 9400M. It's also more likely to get the fan running which is virtually unnoticeable, and the unit only warms up underneath, which is typical for Apple laptops. However, the most important new feature of this model is that it now has the same Apple-designed battery that was introduced in the 17in MacBook Pro back in March.
For this model, Apple claims that the new battery lasts for up to seven hours. In practice, we got almost exactly four hours and 30 minutes when playing some H.264 films off the hard disk using the 9400M graphics chip. That's an increase in battery life of 50 per cent compared to the previous model, and you'll get another hour on top of that for more routine tasks such as surfing the web or running Microsoft Office.
That's impressive performance from the new battery, but the downside is that – as with the MacBook Air and 17in MacBook Pro – the battery is sealed inside the unit and can't be replaced with a spare to extend the battery life on a long journey.
Apple's argument is that the new battery effectively allows most people to get a full day's work out of the laptop, making spare batteries unnecessary. There's some merit in that argument but, for some people, the mere idea of a non-replaceable battery will be yet another sign of Apple limiting consumer choice.

An SD card slot replaces the 'unused' ExpressCard 34 interface
Another option that's been taken away is the ExpressCard expansion slot. Apple claims that less than one per cent of MacBook Pro users actually used the ExpressCard interface in previous models. Consequently, it has now been replaced by an SD card slot, which can be used to insert memory cards from your digital camera.
Sponsored: Minds Mastering Machines - Call for papers now open