Samsung ML-1640
No-brainer budget buy
Setup is reasonably straightforward and it should have been even easier on the review sample, as the drum and toner cartridge came pre-installed. We tell you this not as journo trivia, but because when we tried to fire the machine up it reported no cartridge installed. The cartridge includes a long, articulated handle and has to be slid right to the back of the machine, inside, so is more fiddly than most.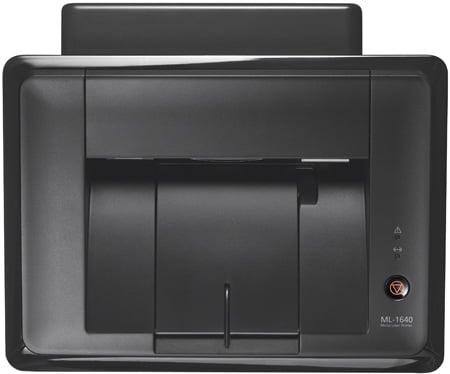 Simplicity itself, but cartridge fitting can be a fiddle
We pulled it out and reinserted it a few times (cut the sniggering at the back) but with the same result. Finally, a call to Samsung revealed that you really do have to push the cartridge very firmly on the left-hand side to get it to locate and register as installed. Wonder how many support calls they get on this?
For such an inexpensive machine, Samsung makes an impressive speed claim. 16ppm for plain paper print is a fair turnover, but when we came to test it we were pleasantly surprised. Our five-page text print took 30 seconds, so a straight 10ppm, but when we increased the run to 20 pages, it completed in 1:24, a speed of 14.3ppm. This isn't far off the spec and very comparable with other entry-level lasers, such as Canon's £75 i-SENSYS LBP3100.
A single page text and graphics page, printed off five times, took 26 seconds, or 11.5ppm. Only one page had to be rasterised, so the increase in speed over the five-page, straight text page job is understandable. Finally, a 15 x 10cm photo printed in 12 seconds at the ML-1640's default resolution of 600 x 1200dpi.
Output quality depends on what you're printing. Straight text prints very cleanly, with no signs of toner spatter. It's hard to tell from black text produced by mono lasers costing a lot more. When it comes to greyscale graphics, though, things aren't quite so good.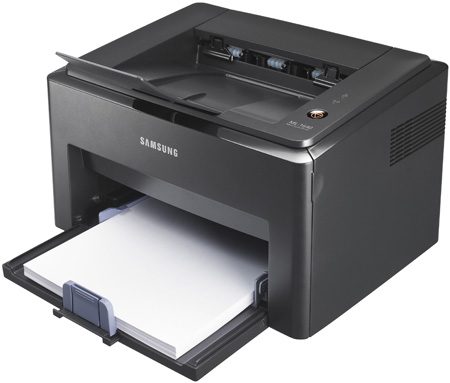 More room is needed when open for printing
Although greys are quite smooth, with only slight visible banding, the range of shades is restricted. Some colours, which normally give discernibly different greyscale tones, produce very similar greys here and some are much darker than the original colour hues, so overlaid black text can get lost.
Sponsored: Minds Mastering Machines - Call for papers now open