Dell Inspiron Mini 10v netbook
The Small, Cheap Computer is back. Hurrah!
The one-piece trackpad is new to Dell's netbook line up and though small - it's only 78 x 38mm - it has a nicely tactile surface and is pleasant to use over long periods of time. The click action is both firm and satisfying. We have heard reports that the 10v's trackpad can be a bit skittish if you are clumsy with your click-finger positioning, and though this is a fair comment, it's also a problem very easily rectified by simply ensuring that you press down on the far bottom left corner of the pad before you start moving the cursor rather than on the painted button mark, which is placed too far inboard. There's no multi-touch functionality, just the usual bottom and right scroll zones.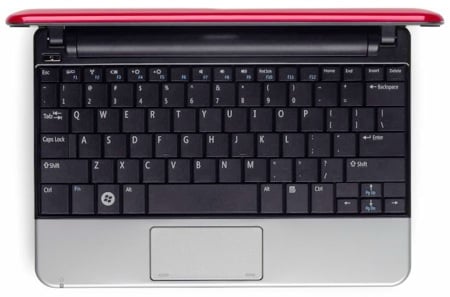 Nice, big keyboard
The exterior design does have one howling fault, however. Stick an SD card into the relevant slot and exactly half the card is left sticking out with its backside dangling in the wind ready to snap off at the slightest knock. This removes the option to leaving it in situ as a permanent storage addition, something you could do with both SD slots on the Acer Aspire One, one of which was completely flush while the other left the card protruding by no more than a few millimetres.
Under the hood, the Mini 10v is netbook business as usual with a 1.6GHz Intel Atom N270 processor and 1GB of DDR 2 memory. Wireless connectivity comes courtesy of 802.11b/g Wi-Fi though for an extra £15 you can spring for an 802.11n card. If you want Bluetooth, you're going to have to buy a dongle as it doesn't come built in and isn't even an extra-cost option for the 10v. The same goes for 3G cellular connectivity. For storage, Dell fits a 2.5in 8GB multi-level cell SSD. A 16GB SSD is an option too.
The 10v comes loaded with Ubuntu 8.04, or Hardy Heron to its friends. Annoyingly, Dell has fiddled with the set up so that users can't download and install Ubuntu updates or applications from the Ubuntu repository. The answer is to install 9.04 Jaunty Jackalope which works out of the box with the Mini 10v, though you do loose the Dell desktop dock - which is frankly something you can live without - and the built-in microphone. No doubt some bright spark will come up with a work around to fix the latter soon enough.
Upgrading to 9.04 also frees up more of the SDD for data storage – our machine had 2.6GB available when running 8.04, but 4.6GB following the Jaunty install.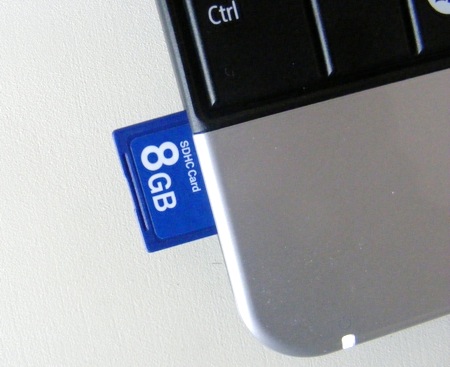 Stick-out SD cards no good for on-board storage expansion
In terms of performance, the 10v does pretty much exactly what you would expect. Our Gimp Gaussian Blur test was dispatched in an eminently reasonable five seconds, and while the integrated Intel GMA 950 graphics core struggled with hi-def H.264 files, it managed to play a 1080i .AVI file at full screen in VLC without any problems. If HD movies are your bag, Dell will sell you a regular Mini 10 with a 1366 x 768 screen, HDMI port and GMA 500 GPU.
Sponsored: Minds Mastering Machines - Call for papers now open