Dell Inspiron Mini 10v netbook
The Small, Cheap Computer is back. Hurrah!
Dell says the 10v's screen is 10.1in but it's not. We measured it and it's 10in dead. It has a 1024 x 576 resolution. Exactly why Dell has eschewed the more normal 1024 x 600 – the 10v's perfect 16:9 ratio notwithstanding - is anyone's guess, but at the end of the day unless you knew it was different you wouldn't actually notice. After all, what's 24 pixels between friends? Odd resolution aside the glossy screen is very pleasant to look at, being bright, sharp and vibrant.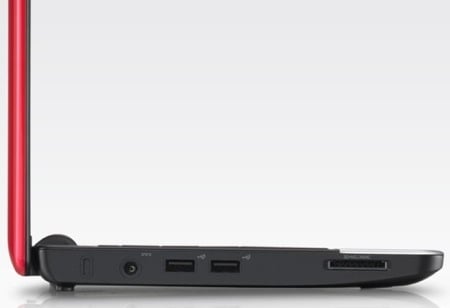 No surprises on the port array...
Take a quick tour around the 10v and you will find that its external portage consists of two USB connectors, a Kensington lock, a three-in-one memory card slot and power jack on the left, along with a VGA port, 10/100Mb/s Ethernet socket, a third USB port and 3.5mm audio jacks on the right. Above the screen sits a 1.3Mp webcam and microphone while system lights are limited to a bright white power lamp at the front of the keyboard. Rather than fit an external Wi-Fi switch Dell make do with a Fn/F2 keyboard combo.
The only panel in the underside of the machine covers the wireless card, so swapping out the memory and/or hard drive will involve removing the entire rear casing.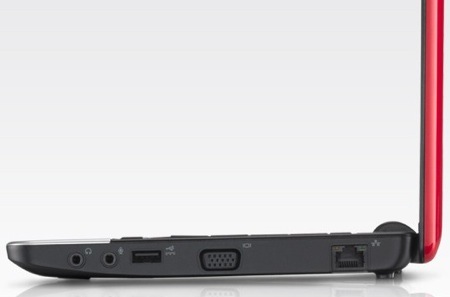 ...on either side
Being fanless and having an SSD, the 10v is quite literally silent in operation though it did get a good a bit warmer than the similarly fanless Mini 12 during extended periods of use.
With the standard 24Wh three-cell battery fitted, the 10v is hardly a porker, weighing in a 1.14kg and measuring up at 261 x 182 x 26.8-28.3mm around the houses, which makes it very similar to Acer's Aspire One D250. Our test machine had the optional 56Wh (5040mAh) six-cell battery, which adds about 300g to the weight and props the back the machine up by around 10°. Imagine sticking three rolls of £1 coins to the rear underside of your machine and you get the general idea.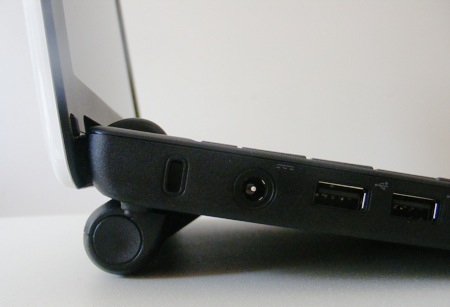 The six-cell battery adds runtime.... and a little height
The 84-key keyboard looks and feels identical to that on the Mini 12, though Linux aficionados will doubtless be more than a little peeved by the presence of a redundant Windows button to the left of the space bar. Though the keys themselves are rather shallow their action is positive and the base is solid with little if any flex, making the Mini 10v an easy machine to type on if not a device to keep the designers of the keyboard on the Samsung N120 awake at night.
Sponsored: Minds Mastering Machines - Call for papers now open