Yes! It's the air-powered car!
Just a load of the proverbial?
Leccy Tech Luxembourg-based engineering concern MDI has unveiled a car powered by, of all things, compressed air.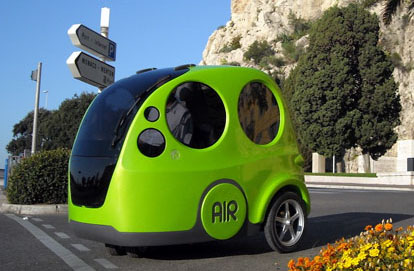 The air-powered Airpod car, from firm MDI
Well, when we say 'car', what we really mean is a three-wheel, sub-500kg urban run-about, working prototypes of which are currently trundling around France.
Called Airpod, the vehicle is driven by a 180cc, two-cylinder engine that pumps out 5.4bhp and 11lb/ft of torque from 261psi of air pressure. The engine - based on a design by company founder Guy Nègre - has been in development for roughly 20 years and, in simple terms, uses the expansion of compressed air to move pistons.
The compressed air's currently stored at 2,900psi inside carbon fibre tanks fixed to the cars' underside. But in the production models, air will be stored at 4,400psi - cue visions of air tanks rupturing and sending Airpods whizzing down the road like burst balloons.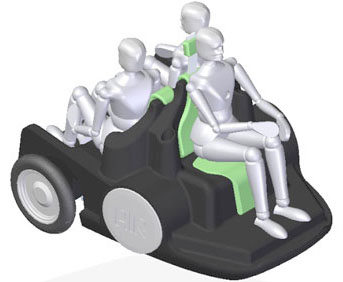 Airpod's driver sits alone in the car's front
Prototype Airpods are limited to 30mph, but the production version will be capable of 50mph, the company said.
MDI added that Airpod has a range of between 90 and 120 miles – a distance that's dependant on factors like car speed, load and gradient. A full re-charge of Airpod's compressed air tanks only takes two minutes, the firm claimed.
The Airpod can seat three people: a centrally placed driver in the front and two rear-facing passengers in back.
If MDI's propulsion system proves itself, the company plans to release a whole raft of vehicles based on its compressed air technology.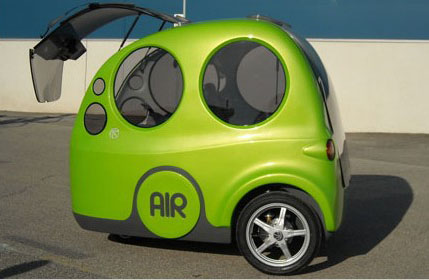 The production version should get up to 50mph, MDI's claimed
This could include…erm… a GT version, which would combine the air engine together with a micro-petrol engine - with the latter used to heat the air. The result? A whopping 8bhp.
MDI will launch the Airpod in France towards the end of 2009, priced at €6000 (£5100/$8400) - though local eco-subsidies could see that figure reduced by up to fifty per cent.
We should point out, though, that MDI's compressed air cars have been due to go on-sale many times over the past nine years. This isn't the first time the firm's cooked up a working prototype of a planned model, either. ®
Sponsored: Minds Mastering Machines - Call for papers now open