LG XD4 500GB
Not enough capacity by half?
Whatever negative comments we have about the XD4's software, there's no ignoring the solid performance the drive put in during our tests. Having reformatted the drive to the cross-platform FAT32 file system - it's pre-formatted as an NTFS volume - we connected it directly to a MacBook Air's USB 2.0 port and copied first a 2GB file and then a folder containing 100 10MB files. The file and folder were then duplicated on the drive itself, and we repeated the tests half a dozen times and averaged the data-transfer speeds.
File Transfer Results - Copy to External Drive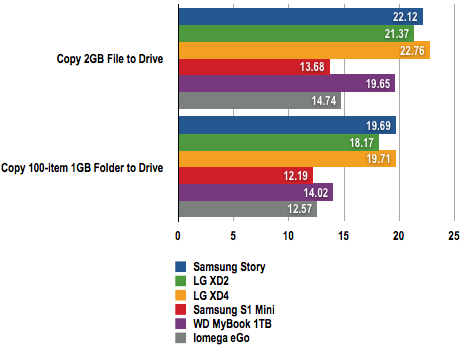 Data Transfer Rate in Megabytes per Second (MB/s)
Longer bars are better
As you can see, the XD4 is no slouch, beating Samsung's Story Station on one operation and falling right behind it on the rest.
File Transfer Results - Duplicate on External Drive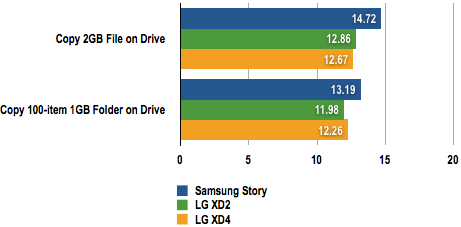 Data Transfer Rate in Megabytes per Second (MB/s)
Longer bars are better
LG wants around £85 for the XD4, but we've seen it on sale for £70 before P&P. Such discounts take it into the price band that most 500GB desktop external hard drives occupy. LG's bundled software is below par - not that most others are in any way impressive. But since it's a nicely made, good looking drive and a decent performer, we're not overly concerned.
No, we just can't see the point of buying a £70 external drive - good though it is - when you can pay a tenner more and get a good 1TB drive like the Samsung Story.
Verdict
Quirks aside, LG's XD4 is a good external hard drive that performs well and, compared to the competition, isn't unreasonably priced. But it's clearly a lot less value than drives offering twice the storage capacity. ®
More External HDD Reviews...
| | | | |
| --- | --- | --- | --- |
| LG XD2 500GB | Samsung Story Station 1TB | Freecom ToughDrive Sport | Samsung S1 Mini |

LG XD4 500GB
Nice drive - but ignore this capacity and go straight to the only slightly more expensive 1TB version.