Pré-style wireless charging comes to the iPhone
WildSkin takes on Touchstone
The iPhone has finally caught up with Palm's Pré thanks to accessory firm WildCharge and its wire-free charging system for Apple devices.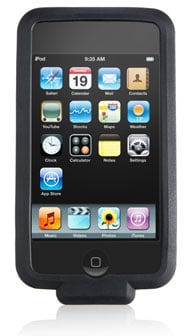 First, slip a WildSkin onto your Apple device...
WildCharge skins for the iPhone and iPod Touch are, according to the manufacturer, the first wire-free charging add-ons available for both Apple products.
The charging process is very similar to the one employed by Palm: you to place your WildSkin-clad iPhone or iPod Touch onto a special power pad - sold separately, natch - so that power can be wirelessly transferred through to your Apple device.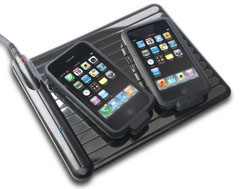 ...and then place it onto the WildCharge charging pad
While all the technology required to do this on the Pré is integrated into the device, WildCharge requires you to fit a special "durable, protective and form-fitting case" onto your Apple gadget first.
The iPod Touch-compatible WildCharge skin is available to order online now for $35 (£21/€25), though kit isn't yet shipping. A skin and power pad bundle costs $80 (£48/€57).
The iPhone skin and power pad, which is compatible with the iPhone 3G and 3G S, won't be available to order for another two weeks. ®
COMMENTS
Welcomed, but...
I can't REALLY see a benefit with this! Yeah, it's new technology and it's of course welcomed, but if you have to have the mat plugged in somewhere in your home or office, what stops you having the charger at the same place and plug it in to that? Come on... is it the plugging-in action that is too much of an effort here? And how is misplacing your charger an issue? I tend to leave it at one place all the time and when you are travelling for example, won't you need to take the mat with you, too? Changing the device to charge, doesn't change a thing. Take it away and then we're talking!
Until proper wireless charging has matured, been commercialised and cheap (like what Intel are doing, amongst others), I'll be saving my pennies, thank you.
Been living in the dark ages
And i know the pre has this, but the practical use of this is fantastic, specially for smartphones which suffer from the lower battery than most normal phones.
Get home from work, dump your iphone on the pad and it charges, no more "where i leave my effin charger!"
Am I to assume as well that the skin basically replaces the need to go out and buy a protective case for the iphone? or is it going to be a case of having to remove it from the case everytime you finished charging, which would defeat the use of this device.