Acer Aspire Revo R3600
Nvidia's Ion gives Atom the boost it needs
Ah, yes, HD movies. You may have a penchant for watching movies from iTunes or perhaps you have an HD camcorder that records to SD card, but by and large the main source of legit HD movies right now is Blu-ray Disc. The snag here is that the Revo doesn't have an optical drive, let alone a Blu-ray one. You can buy an external Lite-On USB BD-Rom drive, model DX-401S-03C, for a surprisingly modest £64 which will address that problem. Buying the drive raises the cost of the £250 Revo by 25 per cent and also puts paid to the idea of mounting the Revo on the back of your TFT display using the optional VESA mounting kit.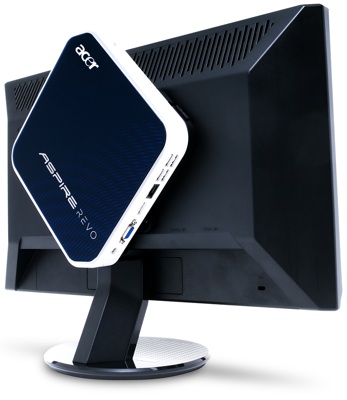 Stick it to the back of your screen
We didn't have a USB or eSata Blu-ray drive to hand so we couldn't watch a Blu-ray movie on the Revo. However, we have previously tested desktop motherboards with the GeForce 9300 chipset and have found the movie decoder to be a gem for this kind of thing.
Although you can undoubtedly use the Revo to watch Blu-ray movies, we doubt many customers will buy a Blu-ray drive, and this brings us to a fork in the road. The Ion chipset has a number of distinct advantages over the Intel D945G in that it can run Windows Vista, it can play games such as Spore and Sims 3, the movie decoder is a good 'un, it supports twin displays and can handle 7.1-channel audio over HDMI.
The problem is that those are mostly theoretical advantages as the Revo doesn't have an optical drive so it's tricky to watch movies or install games, unless you use a web-based service such as Steam, and it doesn't have a DVI connector so its value as a desktop PC is severely reduced.
This is something of a shame as the Revo is impressively quiet in operation.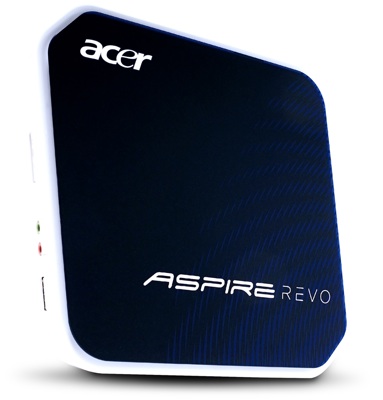 Impressively quiet in operation
The main virtue of the Atom is its low power draw, and the Revo is truly astonishing in that regard, sucking less than 20W at the mains plug. The point here is, of course, that the Revo is mains powered so you don't need to save every last Watt to make the most of your battery as you would with a netbook.
Sponsored: Minds Mastering Machines - Call for papers now open