Microsoft to bridge earth and Windows Azure
The private lives of Redmond's cloud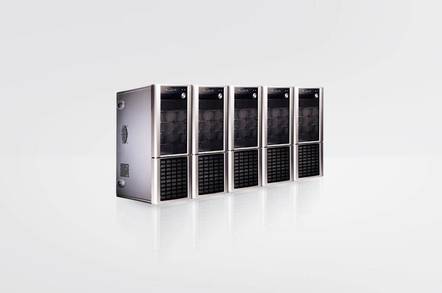 Structure 09 Microsoft has hinted it will eventually offer tools that let businesses span the gap between their own infrastructure and Redmond's platform in the sky - Windows Azure.
The question is whether it will ever provide a full-fledged version of Azure for the private data center.
"We get lots of questions [from businesses] about how they can preserve their investments in their on-premise systems when they move to the cloud - their ISVs, their applications, their programmers, their expertise, etc.," Microsoft distinguished engineer Yousef Khalidi said during a panel discussion at the cloud-happy Structure 09 conference in San Francisco, California.
"They want to know: 'When I move to something new, how will what I have seamlessly - over time - grow into the cloud?'"
When asked what he tells these inquisitive businesses, Khalidi said: "We tell them that we agree with their basic premise - which is that they will have on-premise offerings in their data centers and also stuff up in the cloud. And we will tell them 'Yes, we are going to invest in technologies that over time will bridge the gap between the on-premise way of programming and the cloud'."
Still in pre-release mode, Microsoft Windows Azure is a so-called "platform cloud," a development and hosting platform that runs on Redmond's very own scalable compute resources. It's not to be confused with an "infrastructure cloud" along the lines of Amazon EC2, which offers remote access to the compute resources themselves.
In the parlance of the moment, both are described as public clouds. Anyone can use them - or at least, anyone can use them once Azure is released. And yes, that means industry phrase-makers are also pushing the notion of private clouds. That would be shared, dynamically-scalable resource pools that sit inside your own data center - and that only you can use.
Yes, talk of a private cloud ruins the sky-high metaphor. But so it goes.
IBM is among those pushing the private cloud marketspeak, trying to feed off the new terminology while still appeasing its existing customers - who may want to store at least some of their data on their own machines. The recently-announced IBM CloudBurst is an effort to bridge the private and the public. Naturally, some pundits insist on calling this sort of thing a "hybrid cloud."
With today's comments, Khalidi may have been hinting at private cloud incarnation of Azure. But maybe not. Those words might allude to software that simply allows for the quick and easy migration of code and data from existing apps onto Redmond's public cloud. Microsoft chief software architect Ray Ozzie hinted at something similar last month.
"The nature of what we're building will enable people to wrap existing workloads, existing Windows Server workloads, in a way that with as little change as possible, they can move those workloads up into a cloud environment," Ozzie said.
Then he added: "That could be a private cloud or a public cloud environment."
Some reports indicate Microsoft will indeed offer a private version of Azure. Others say not.
Our money is on a private version. After all, this is Microsoft - the self-proclaimed "software plus services" company - and it will do whatever it can to feed the continued adoption of Windows. Khalidi bills Azure as an "operating system in the cloud," and no doubt, the company will one day offer something along the lines of Microsoft Windows Server Azure Edition. You can take or leave it. ®
Sponsored: Minds Mastering Machines - Call for papers now open