Orange unveils GlastoNav
Navigate your way through the mud
Watching your favourite bands while standing in foot-deep mud is tricky enough. Luckily, Orange has designed a mobile phone application that could make this year's Glastonbury festival go slightly more smoothly for you.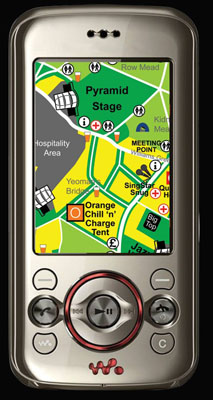 Orange's GlastoNav: past the bogs, round the mud, follow the waft of weed smoke...
GlastoNav is "the ultimate interactive festival planner", according to Orange, because it'll provide everything from the event's full line-up to a personalisation feature that'll let you set your agenda according to individual artist's performance times.
The app will also bring you "essential festival news" – such as which bogs still have loo roll left in them.
A word to the wise: if you download the app and later spot a bull icon on your phone's screen then you'll have been given the chance to enter into a mud-fuelled competition to win your very own spot on the Glastonbury Pyramid Stage.
GlastoNav can be downloaded online for free. ®
COMMENTS
I found Glastonav to be...
...really very, very slow. That might be due to my SE P1i (not the whizziest of phones). Does anyone else have this problem?