TTxGP: world's first e-bike grand prix race report
Went the day well?
Entries were divided into two categories: the Pro Class, which was open to all bikes, and the Open Class for bikes that were built from off-the-shelf components to a target cost of not more than £20,000.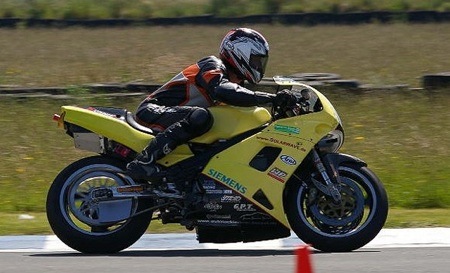 XXL's Thomas Schoenfelder clocked the fastest speed through Sulby
The Open Class experienced high drama and confusion when the Barefoot Motor's bike, ridden by Chris Petty, suddenly lost power as it approached the finish line, allowing Chris Heath on the Electric Motorsport machine to win by 35 seconds.
After the race, however, Heath was disqualified for not sounding his horn while riding under a yellow flag, so promoting Petty and John Crellin on the Team TORK bike to first and second in class, respectively.
Their cheers were suddenly muted when Heath was subsequently reinstated when it was decided by race judges that his transgression hadn't effected the outcome of the race.
The prize for grim determination in the face of a failing motor and battery pack must go to Stephen Harper on the Brunnel University X-team bike who took nearly an hour to complete the course and paddled his machine across the finish line with his feet.
After the race, Register Hardware spoke to Forrest North, CEO of Mission Motorcycles. North was adamant that the TTxGP will have a very positive impact on the ongoing development of electric motorcycles, saying that an event of this type was "the equivalent of compressing six months of R&D into one week".
Following the podium ceremony, race promoter Azhar Hussain said: "We've really changed the world today."
TTxGP: the Course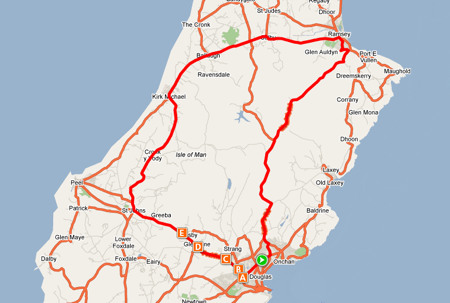 Map courtesy Google/TeleAtlas
The course is 37.733 miles (60.72 km) and the start-line is on the A2 Glencrutchery Road in Douglas. The racing circuit is based on a number of public roads on the Isle of Man including the primary A2 Douglas to Ramsey Road, A1 Douglas to Peel Road, A3 Castletown to Ramsey Road and the primary A18 Mountain Road. The highest point of the course is on the primary A18 Mountain Road between the Bungalow and Hailwood's Rise at spot height 422m (1384ft) above sea level.
It is estimated that there are over 200 corners on the Isle of Man Mountain Course and about 60 corners have names.
Sponsored: Minds Mastering Machines - Call for papers now open