TTxGP: world's first e-bike grand prix race report
Went the day well?
Leccy Tech The inaugural zero-emission motorcycles grand prix – the TTxGP - finished last week with more than its fair share the drama, excitement and breakdowns.
As with any new form of motor sport, the rate of attrition was high with only nine of the 20 bikes due to start race making it to the chequered flag.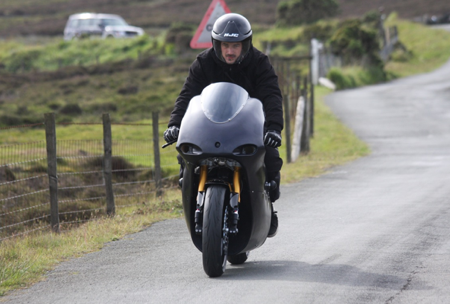 Pre-prang: eRockit's bike practicing pre-race
The German eRockit bike never recovered from a seized motor on Tuesday that sent its rider, David Madsen-Mygdal, sliding down the road bruising his hip and damaging his crash helmet. Following the crash, Madsen-Mydgal confessed that he would be uncomfortable riding the six-speed clutchless machine even if the team could repair it in time.
"I was going fairly well and it was pretty good fun to ride," he told Register Hardware. "I'm just glad it locked up in a straight line."
Meanwhile, Evo Design's bike suffered from consistent problems with its electronic control unit which the team failed to solve in time to qualify for Friday's race. Persistent technical problems also prevented the Peace e-rider bike from starting.
Of the 13 e-bikes that did manage to start, four suffered terminal technical problems during the race, including James McBride on the ManTTX machine, who retired at Glenn Duff; the second Brammo machine ridden by Roy Richardson, which melted its engine at the 11 mile; and the Team MotoCzysz bike ridden by Mark Miller, which suffered a catastrophic failure of all three of its electric motors in a shower of sparks before even reaching the first checkpoint.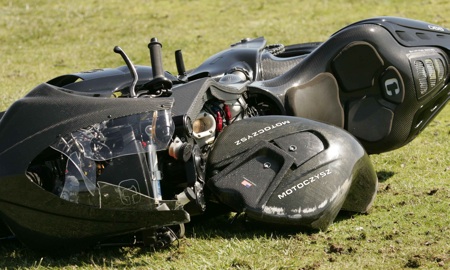 Burn out: MotoCzysz' three engines went up in smoke
The US-based Brammo team said they had deliberately push up the performance of Richardson's bike to see how it would stand up compared to their second bike, ridden by Mark Buckley, who eventually came home third in class.
Sponsored: Minds Mastering Machines - Call for papers now open