SGI plays numbers game with 6120 storage box
Inexplicably named, self-contained storage appliance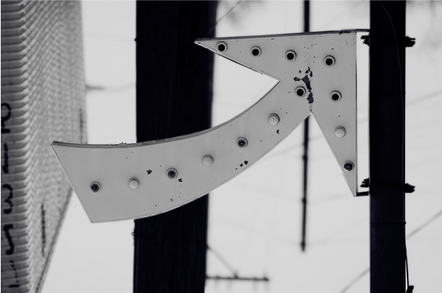 SGI - the company that is the result of Rackable's mercy acquisition of Silicon Graphics International - is announcing a new storage product at next week's International Supercomputing Conference in Heidelberg.
The box is the InfiniteStorage 6120, described as being "high-performance with best-in-class density and maximum drive versatility in a self-contained appliance." SGI previewed it back in November last year, at the SuperComputing 2008 event in Houston, so it's been a while coming.
The 6120 is designed to support mixed workload environments featuring a large number of small random IOPS, and high sequential throughput. SGI is pitching it as networked SAN storage for transactional, backup, and rich-media markets.
SGI has an existing InfiniteStorage range comprising 120, 220, 350, 4000, 4600 and 15000 models. The first three are small rack shelf systems, with the 220 offering up to 24TB of mixed SAS and SATA drives, and the 350 up to 8TB of SATA capacity. The 120 is a tiddler; 2U and 3.6TB. The 4000 line are rack tower arrays, with the 4600 case containing up to 256 mixed Fibre Channel and SATA drives. The 15000 is a multi-rack product supporting up to 1,200 drives.
You would think, based on the numbering, that a 6120 would slot in above the 4600 and below the 15000. Wrong: it slots in between the 4000s and the 220/350 rack shelf enclosures. The product numbering system seems crazy.
The 6120 is a 4U enclosure containing dual active/active controllers with cache coherency and failover, and up to 60 3.5-inch SAS and SATA hard drives, with solid state drives being supported. Another 60 drives can be connected in an expansion box.
The SAS and SATA disks are used for performance and capacity pools respectively. The 6120 uses storage pools and virtual disks to configure drive storage for use by host systems. A storage pool or RAID group is a collection of 5 to 10 disk drives, ideally of the same capacity and type. RAID 5 protection is the default with RAID 6 dual drive failure protection as an option. The system has stripe sizes of 64, 128 or 256KB, configurable per RAID set.
Various components are hot-swappable and redundant, and if a controller fails the second one takes over its work. The 6120 has up to four 8Gbit/s Fibre Channel ports, with simultaneous access to the same data through multiple ports. You can ascertain more details here (pdf).
There is no connection, as far as we know, to Sun's old StorEdge 6120 storage product.
List pricing for a 6120 with dual controllers, 12GB cache, 4 x 8Gbit/s FC host ports, and a 60-bay drive enclosure is $66,000. The optional RAID 6 feature is $7,500. More pricing details here (pdf). ®
Sponsored: Minds Mastering Machines - Call for papers now open