Sony Ericsson Walkman W995
Sonic sophistication with a photo finish
For the music player, the usual Walkman Clear Stereo and Clear Bass and stereo widening are present and correct, as is a five-band customisable graphic equaliser with nine presets. It will play MP3, AAC and WMA files, but not Sony's ATRAC, which seems to be steadily disappearing from the company's products. The sound is really very good through the HPM-77 headphones, one of the very few supplied headphones that you don't immediately feel you need to upgrade.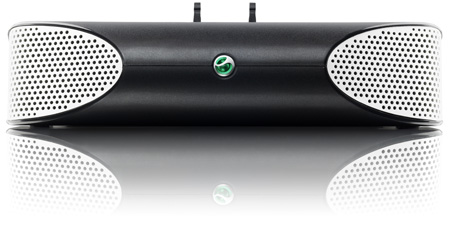 Sound idea: MS410 Snap-on Speakers are included
The Sony Ericsson W995 also comes equipped with its own set of external stereo speakers. Lift off the cover, slide the moveable two-point plug to the desired position, plug in the phone and you're ready to party. The sound's a little thin, but certainly better than what's available through the phone's onboard loudspeaker.
It goes surprisingly loud too, enough to fill a medium-sized room, which would make it fine for background while chatting, but not enough to get a party started. Distortion only started to kick in when we hit the maximum volume setting. There's an FM radio with RDS and 20 presets on board too, which you can use with the speakers, though it's a bit of a shame that the radio menu won't rotate to landscape when the phone is plugged in on its side.
Also, it runs off your phone's power, and you can't plug it into the mains while it's connected, so you'd do well to make sure you're on full charge before you use it. The power issue does seem like a ridiculous oversight and it's perhaps no surprise that these speakers are being given away.
The music control buttons on the side were a little difficult to press, but they're worth having since they'll work even when the phone is closed and locked. The gimmicky Walkman shake control is back, allowing you to shuffle tracks by literally shaking the handset around, or skipping back and forth through your playlist by raising the handset up or down. Someone must like it… There's also the SensMe emotive playlists, which allows you to compile tunes to suit your mood, and the essential Track ID, which lets you identify mysterious tunes playing on the radio.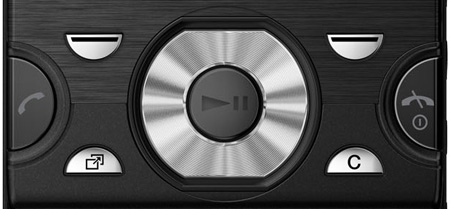 Keypad controls can access most functions
Video replay on the W995 was decent but the relatively small screen has its limits. It will play WMV and MPEG-4 formats and we tried them both, but found that the phone's video player didn't necessarily optimise them for viewing on the QVGA screen, so widescreen movie trailers played with the familiar black bars on either side – which makes for a very small viewing window on a 2.6in screen.