Che Guevara's granddaughter poses for PETA
¡Viva la revolución vegetariana! etc etc
The granddaughter of noted Argentinian Ernie "Che" Guevara has got her kit off for PETA, to promote the revolutionary benefits of baby carrots and other non-animal-based foodstuffs.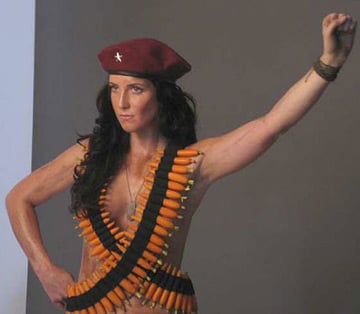 Lydia Guevara, 24, was caught during the photoshoot (see pic) in no way exploiting her granddad's legend, or indeed the famous snap of him issuing a visionary stare from beneath his famous beret.
PETA spokesveggie Michael McGraw said of Guevara's striking pose: "It very much evokes the tag line of the ad, which is 'Join the vegetarian revolution'. It's an homage of sorts to her late grandfather."
The image will appear in October in magazines and on posters in Ms Guevara's native Argentina, AP reports. Thereafter, PETA will export her anti-omnivore revolution across the globe, and undoubtedly hopes for a kind of salad-based domino effect. ®
Sponsored: Are DLP and DTP still an issue?