How to speed up the iPhone 3.0 update process
Turn off AirPort
Having trouble getting your iPhone to activate while applying the shiny new 3.0 firmware update? Fret not - Register Hardware has the answer.

Tired of seeing this? Read on...
When iTunes asks you if you want to download the update, say yes. If you've seen the message above, you've already downloaded the code, so click upgrade again. When iTunes tells you the software is being extracted, disconnect from your network.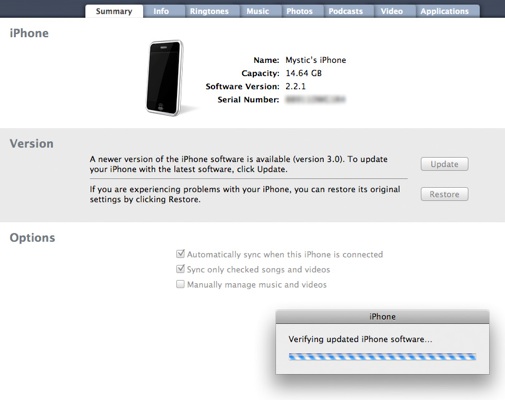 The extraction continues, but this time, when iTunes would otherwise desperately wait to hear from Apple's iPhone authentication server, fail and throw up the "try again later" message, it now simply moves on to the next step and installs the new OS.
Our phone has a SIM PIN, and after we rebooted the handset and were asked to enter it, our iPhone remained in Emergency Mode. If you don't have a SIM PIN lock - or you've disabled it before starting the update process - this should not affect you.
Either way, power down your phone. Reconnect your network. If you've unplugged the phone's cable, reconnect it. Switch the phone back on, enter the PIN if necessary.
iTunes will now try to activate the handset but will do so rather more quickly. You'll be warned it may take a while, but you'll probably find it takes mere moments. We're not the only ones who've tried this, and a fair few UK-based upgrades report similarly quick activations.
We were done and dusted, and use our 3.0-enabled iPhone 3G in under 15 minutes. ®
Sponsored: Minds Mastering Machines - Call for papers now open