Hydrogen-powered two-seater car unveiled
240 miles from a single tank, anyone?
Leccy Tech British boffins have unveiled what they believe is the future of urban personal transport - a prototype two seater micro-car powered by a single hydrogen fuel cell.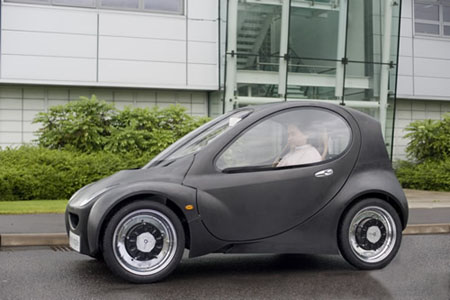 Riverside's hydrogen-powered car
Inside the Riversimple Urban Car (RUC) lurks a 6kW fuel cell that drives the car's four electric motors – with one motor slotted into each of the car's four wheels. The vehicle's also fitted with a regenerative braking system, which stores energy inside a set of ultracapacitors.
The RUC can apparently travel at speeds of up to 50mph and cover 240 miles (386km) on a 2.2lb (1kg) tank of hydrogen. The car weighs just 772lbs (351kg).
According to the car's manufacturer – Riversimple, the RUC's also made of entirely recyclable composite materials.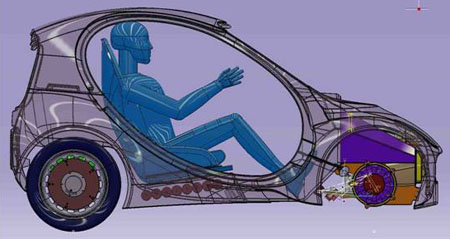 The car seats two, just about
Riversimple's management team's no stranger to groundbreaking car designs. The firm's led by Hugo Spowers, for example, who was involved with the Morgan LIFEcar hydrogen vehicle project.
The universities of Oxford and Cranfield have also played roles in the RUC's development, as has Horizon Fuel Cell Technologies - a Shanghai-based developer and manufacturer of hydrogen fuel cells.
Instead of selling the RUC outright, Riversimple plans to lease out the car over a 20-year period for around £200 ($327/€236) per month – a price that will include the cost of the hydrogen.
Riversimple's business plan sounds very similar to Better Place's 'leccy car as mobile phone' concept, which was announced last year.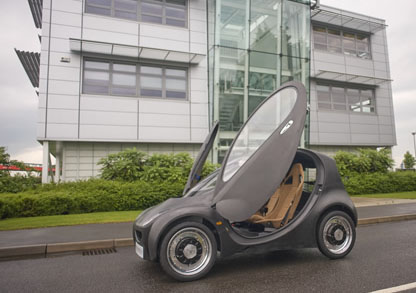 The first rentals could start in 2012
But before any rentals can take place, Riversimple's banking on a £20m ($32.7m/€23.6m) cash injection to help fund its development of another 10 RUC prototype vehicles, which the firm plans to road test from the end of 2010.
Fifty pre-production cars will then be released into an as-yet unknown British city during 2011, provided the earlier road tests go well, of course. Formal leasing to private buyers will start towards the end of 2012. ®
Sponsored: Minds Mastering Machines - Call for papers now open