iPhone 3.0 - born on schedule...
...and (mostly) healthy
Movies, voice recording, auto-fill, and more...
As promised, you can now buy or rent movies, TV shows, and music videos from the iTunes store. And for those of you who want to improve your minds and not merely download a copy of 1974's The Taking of Pelham One Two Three to see how much better it was than today's remake, there's free educational video content available from iTunes U.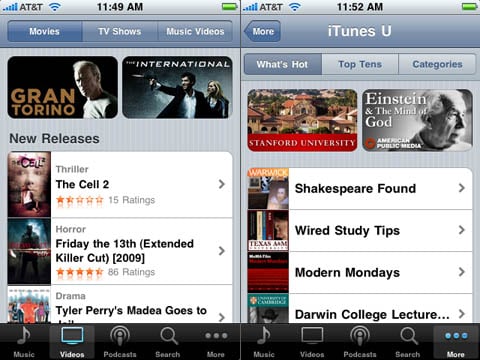 Spend your money on video rentals (left) or get smarter for free at iTunes U (right)
The Voice Memo app is a nice addition - though, I'm sure, not a welcome one to the developers of Polar Bear Farm's Record, Patrick O'Keefe's Voice Record, or other existing recording apps. I wouldn't suggest using Voice Memo to record the fine and delicate acoustical purity of, say, your next string-quartet concert, but it works just fine for voice-jotting a quick brainstorm or three and emailing them to your boss.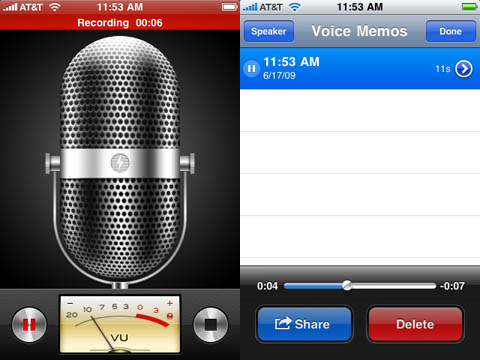 Record your brilliance (left) then tap Share and send it in an email (right)
Landscape typing does indeed work in Apple apps such as Notes, Mail, and Contacts (it's always worked in Safari), but I couldn't get the keyboard to go into landscape mode when I tried to enter text into Calendar, nor did it appear when I landscapified the brand-spanking-new Spotlight search.
Safari's performance doesn't seem noticeably faster, and I couldn't get its AutoFill function to work until I discovered that I had to go to Settings > Safari > AutoFill and provide Safari with the needed permission and info. Then, after I allowed Safari to AutoFill a PCConnection checkout web form, it botched the job - as any auto-fill is wont to do - but it was a simple tap 'n' type matter to correct its mistakes.
Among other improvements, the Stocks app is nicely updated with landscape charts - useful if you're a fiscal masochist grooving on the Meltdown - and the shake-to-shuffle feature in the iPod app is functional, if a bit silly.
Of course, we here in the States will have to wait for AT&T before we can test such 3.0 niceties as MMS and tethering - all the while envying users all over the rest of both the civilized and uncivilized worlds as they send photo-enhanced text messages and use their iPhones as wireless-broadband modems.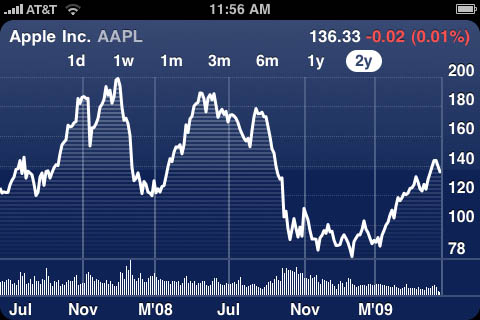 Roller-coaster rides are more exhilarating in landscape mode
We'll wait until later to test MobileMe-enabled functions such as Find My Phone and Remote Wipe file deletion, plus stereo-Bluetooth connections, in-app purchases, phone-to-phone Bluetooth communication, and a few other enhancements such as smart communication with hardware accessories.
At first blush, iPhone 3.0 appears to be a solid upgrade, free for iPhone owners and $10 for iPod touch owners - and if that ten bucks sounds like Apple is nickel-and-diming those iPod owners, remember that there are between 15 and 20 million iPod touches out there. Those nickels and dimes will add up to a hefty take for Apple. ®
Sponsored: Minds Mastering Machines - Call for papers now open