Huawei's Android touchphone details revealed
Gaze in wonder at its bizarre 'full and half Qwerty' keyboard
Exclusive Huawei may have finally unveiled a few of the specifications for its first Android handset - the U8230 - but Register Hardware has laid its hands on the device's full feature list.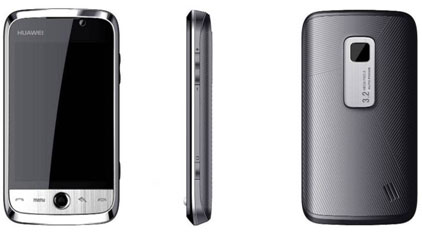 Huawei's first Android handset: the U8230
The phone supports a variety of Google applications, including Maps, Search and Talk, while relying on Google's Chrome application for web browsing, Huawei documents reveal.
Texting and emailing looks set to be a doddle on the handset. Huawei has given it a "full- and half-Qwerty" virtual keyboard that - as you'll see from the picture below - places two characters on each key.
Full and half Qwerty keyboards have been around for a while. One such manufacturer – Matias – explained to us that the 'Q' key, for example, also functions as the 'P' key when the spacebar is pressed.
This may sound a little wacky, but the process apparently enables users to maintain a typing speed that's similar to using two hands.
Whether the U8230 uses a special shift key to allow a key's second character to be entered, relies on predictive text or both isn't yet known.
Underneath the U8230's 3.5in, 480 x 320 display is a Qualcomm MSM 7200A chipset, 256MB of memory and support for quad-band GSM – the latter in addition to 3G connectivity. Wi-Fi is also included.
The phone has a 0.3Mp camera embedded into its front display, but around the rear of the handset you'll find a more capable, 3.2Mp snapper with an 8x digital zoom.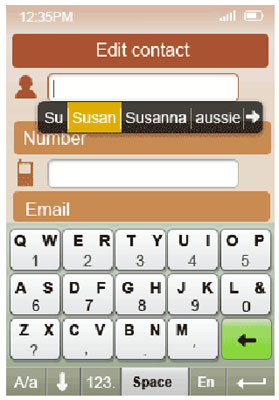 The phone's 'full and half Qwerty' keyboard - odd
Content is kept on Micro SD cards of up to 8GB – it hasn't been confirmed if one will be bundled with the phone. Bluetooth 2.0 and a USB 2.0 port are also included on the U8230.
Multimedia is catered for on the Huawei Android, in the form of MP3 audio and MPEG 4 video. But it's our sad duty to report that the phone has a 2.5mm – rather than 3.5mm – headphone jack.
Battery life hasn't been announced yet, but that hasn't prevented Huawei from claiming that the 1500mAH lithium-polymer battery embedded into the U8230 boasts "the longest battery capacity of any Android-powered handset currently available".
Huawei's U8230 Android will be available in the UK through T-Mobile during Q3. A price hasn't been announced. ®
Sponsored: Minds Mastering Machines - Call for papers now open