Homer Simpson speaks out on satnavs
Dan Castellaneta voices navigational hilarity
Evergreen Terrace's most famous resident – no, not Ned Flanders – has finally officially found his way onto a satnav.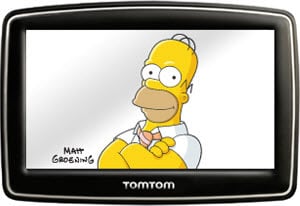 Homer: now available as a TomTom voice
TomTom has taken the Murdoch shilling to bring Homer Simpson – as voiced by Dan Castellaneta and broadcast by News Corp's 20th Century Fox subsidiary - onto its satnav for the very first time.
Although Homer always asks others to hold the steering wheel while he scratches himself in two places, the world's most loveable yellow fellow will, according to TomTom, offer advice on which path you should take – be it to the Kwik-E-Mart, Moe's or Krusty Burger.
The satnav firm also promised that drivers will not only reach their destination on time, but - with Homer Jay Simpson as a guide - have lots of fun en route as he imparts his own special words of... er... wisdom.
For example: "Take the third right. We might find an ice cream truck! Mmm... ice cream." Perhaps he'd even suggest that you ditch your car for the monorail, because Main Street's still all cracked and broken.
So, if you're a Simpsons nut who can't stand to live without Homer's voice on your satnav for one second longer, then navigate your way onto TomTom's website where you can download it for £8 ($13/€9) - less than the price of a Duff.
And we didn't say 'Doh!' once... oh, wait a minute... ®
Sponsored: Minds Mastering Machines - Call for papers now open