RIM announces BlackBerry Tour
A smartphone, not a roadtrip
Research in Motion (RIM) has launched the latest update to its BlackBerry collection, unveiling a smartphone called, simply, Tour.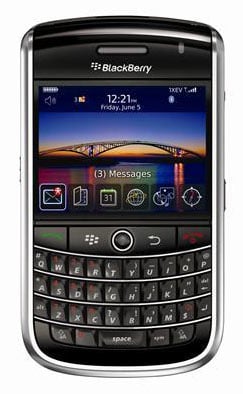 RIM's BlackBerry Tour: Curveball?
Despite looking like an exact replica of the existing BlackBerry Curve – and sporting almost identical measurements – Tour's main draw is its 3G connectivity, at least according to RIM.
It's worth noting that Tour – also known as the 9630 - supports CDMA networks in North America, and UMTS/HSPA networks all over the place.
Tour's equipped with a 3.2Mp camera, which works alongside a flash, image stabilisation and variable zoom. Video capture's also possible. For displaying content, the Tour has a 2.4in, 480 x 360 display.
Integrated GPS hook-up into BlackBerry Maps, while the technology will also help geo-tag the locations of your Tour-snapped photos.
All content is recorded onto Micro SD memory cards of up to 16GB – but one isn't bundled with the phone. Bluetooth 2.0 provides an alternative method of moving data off of your Tour, RIM added.
Business-grade applications are supported, such as Microsoft Word and Excel, are supported by Tour. But if you want to let your hair down then plug your cans into the 3.5mm headphone jack and entertain yourself with music sync'ed from iTunes or video content from Windows Media Player.
The BlackBerry Tour smartphone will be available in North America this summer, but plans for a UK rollout haven't been announced. ®
COMMENTS
specs?
so basically a curve 8900 (amazing phone btw, unlike the poster further up I actually prefer it's keyboard to the bold), but with 3G?
I wouldn't personally pay more just to have 3G (GPRS gives me about 15kbs (on average, usually it varies between 9-17), for a mobile device that is sufficient for me...), but it's great that those who want it get the choice :o)
interested in seeing the full specs to compare it to the 8900 (yes, now that I have a phone I must of course lust after every other device out there and compare it to the one I have)
One important difference
Is the keyboard. I hated the 8900 so much I got the bold instead, and have since had much better spelling!
THAT picture does not have the same keybd as the curve, but as the bold - this time in the nicer shell. I for one would take that over both the curve and the bold. (especially given that the ringer on my bold packed in today.)
Roll on the Tour pls....
hmmm
I work for a mobile operator on tech support and the GPRS only feature of the curve is a major bugbear for most customers, so this is a welcome move.
However, one cant help but wonder if the fact that its now a 9000-series phone, if the price is going to go up. The Bold, for the fact that its a technically inferior phone to the 8900 Curve, its over £100 more for the SIM free handset, so having the curve go 3G and 9000 series, just worries me is all