Yamaha TSX-130 iPod dock
Quality player?
Review Back in 2006, Yamaha established a special R&D department to look at desktop products. The thinking behind this was to utilise some of the company's high-end AV know-how and apply it to a new range of products further down the food chain.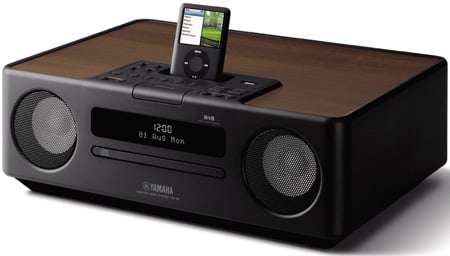 Yamaha's TSX-130 iPod dock includes CD player, DAB radio and alarm clock
From this initiative comes the sleek TSX-130 iPod docking station featuring a CD player and DAB radio. At £349 it's not cheap, but this does have to be seen in the context of both the target audience and the level of functionality. Think middle-aged couple wanting a quality solution for the study or bedroom. Indeed, it even features a clock with an easy to program dual alarm and you can pick a favourite song to wake up to.
At around 4kg, the build quality feels solid and the unit features a wood veneer top, with a soft touch coating on the round edged sides. Available in a dark wood with black facia or light-coloured wood with white facia, both are subtle in approach, with the lighter version having the edge. The button array is clearly marked and simply laid out, with all the functions on show and easy to access. There is also a full function two tone remote and a generous FM/DAB antenna.
Powering on reveals a blue display, which is not the fastest we have seen. There is a little bit of juddering, but no problem with blurring, and all the information is displayed clearly and quickly. The DAB set up – Band III, there is no band L reception – is fast enough with a complete scan of stations achieved in under a minute.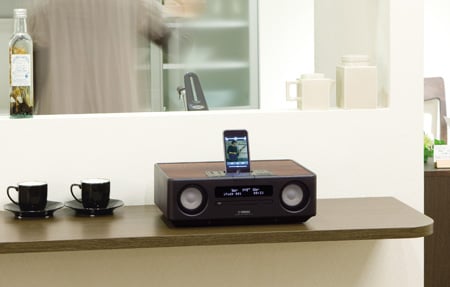 The unit's own display aids remote control distance viewing
The TSX-130 always provides a useful amount of information, with display options in DAB mode including DLS with station type, bit rate, audio mode (stereo/mono), date/time, channel/frequency and signal quality. All food for the terminally curious, who can delight in discovering that Radio Sussex Gold transmits a stereo signal at 128kb/s in the MP2 format. Just don't dwell here for too long, you know it makes sense.
Sponsored: Minds Mastering Machines - Call for papers now open