Reg reader turns 'homo devil machine' on eBayer
Bandwidth-leeching photo link gets the Turing treatment
An Italian eBayer has not yet clocked that he's been rumbled for linking to a photo from someone else's personal website in an attempt to offload a handheld CB radio.
A Reg reader spotted the outrage - hosted on his servers - and decided to replace the image with something more provocative. The sale is here, and you'll need to scroll down a bit to find not the promised "M-520 INTEK C.B. 27 MHZ PORTATILE", but this splendid snap, complete with perfectly legit IT angle: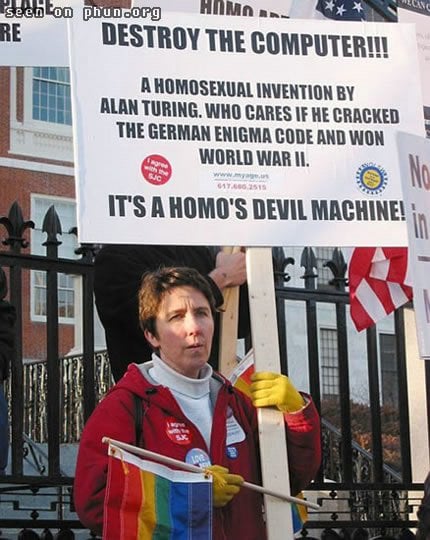 And before the knee-jerking commentards among you weigh in with pro-gay indignation venting from both ears, check out the background to the picture here under "Employing irony in the marriage debate".
And no, we're not going to link directly to the snap in question, lest our wag's servers take a Reg-provoked bashing. ®
Sponsored: RAID: End of an era?