Samsung shines a light on first solar cellphone
But it's no iPhone 3G S
Samsung has spent the last few months talking up solar-powered handsets, but its first commercially available model has finally been unveiled. It's called Crest Solar.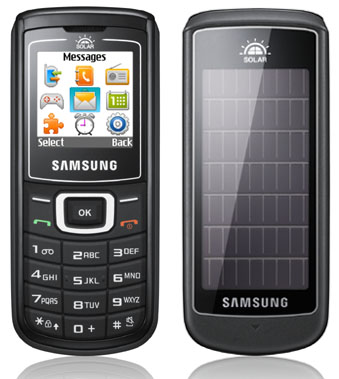 Samsung's Crest Solar: 60 minutes in the sun yields ten minutes' talk time
Also known as the E1107, the phone isn't powered exclusively by solar cells. But the sun soakers will generate between five and ten minutes of talk time from an hour-long charge, Samsung claimed.
The manufacturer also pitching Crest Solar as the perfect phone for anyone looking for ways to cut their energy consumption and save cash.
Samsung hasn't said much about the phone's connectivity options. But the solar-powered talker does have a few interesting features.
For example, Mobile Tracker ensures that if the handset's SIM card is swapped then a message is automatically sent out, presumably to the original SIM card's number.
The handset can also fake an incoming call – useful if you want to get out of a sticky situation — and, in some regions, alert you to the proper prayer times.
Other features include an FM radio, MP3 ringtones, games and a setting that turns the phone into a torch.
Samsung's Crest Solar will be available in Europe later this month, but a price hasn't been heliographed. ®
COMMENTS
SIXTY minutes????
it's not going to sell well in the UK then - you'd have to wait all summer to get enough charge for a 10 minutes phone call
Trigger-happy TV.
<Nokia tone>
HELLO? I'M IN THE DAR..........
Good idea
My mobile spends almost all the work day sat next to me on the desk, in full light. I sit by a window and reckon I can get a good amount of charging in just by being at work.
I suspect though, that this is just the start and hopefully if the phone sells well, maybe some more research in to making lighter, more efficient solar cells will ensue?
Maybe the phone itself isn't too green, but maybe the market that may evolve from it will be?
Combine this with...
... Nokia's radio wave charging and you might have a mobile that you could keep on standby and keep the battery topped up!
I agree with dumping the Colour LCD screen and all the naff stuff like MP3/G playback.
Make sure it's a Quad band or better Mobile and you've a great little emergency mobile!
Have the radio waves trickle charge the battery 24/7 and the Solar panel takes over when there's enough light...
Markets
Most of the commentards seem to be missing the point - this is obviously aimed at certain sunny, electricity-rare countries, possibly with high Muslim populations.
The mobile grid is advancing faster than the wired grid in most African countries - and in many places faster than the power grid.
And one thing we learnt from the (pitiful) spread of the One Laptop Per Child thingy was that many homes used it as a makeshift light source at night - as they didn't have electric lights to spare. I can quite understand this - when camping I often use my iPhone as a torch to find socks.
All things considered this seems like a highly innovative, useful gadget. I just hope the price is low.