Buffalo Terastation III
The paranoid user's Nas of choice
The Terastation III draws 14.3W during sleep, down from the standard 40.4W, which is put to shame by some Synology, Thecus and Netgear Nas boxes that draw just half a watt during their sleep modes. We also found the Terastation III's internal clock, which the sleep timer uses, to be rather buggy. Every time the Terastation awoke or restarted, the time moved forward by several hours.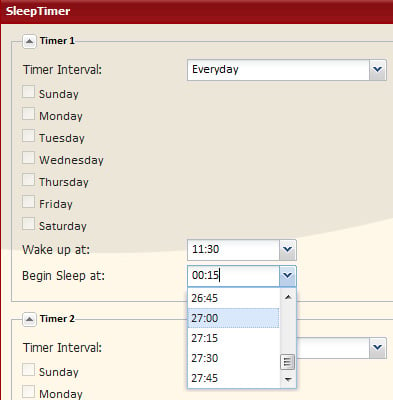 28 hour clock anyone? It'll make you younger
However, leave it on automatic time – linked to a time server – and this issue is resolved as the internal clock is kept updated. If like us, you set the time manually or simply selected 'use local time' – where the time is grabbed from your PC – then the time shoots forwards a few hours after a restart. Stranger still is the timer's 28 hour clock. Presumably, if you select 27:45 it'll actually turn off the following day at 3:45am or perhaps the setting will just be ignored altogether. It's yet another weirdness surrounding the TeraStation III's clock.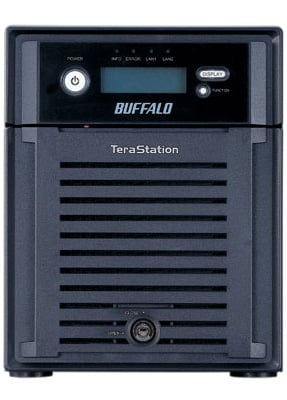 Time out: use a network time server until a firmware fix appears
If the TeraStation III spends 12 hours awake and 12 hours asleep, you're looking at running costs of £26 per year, which is less than the Promise NS4600 and more than Nas boxes with a more effective sleep mode. Running costs are peanuts to the £700 price tag though, which seems a lot compared to most four bay Nas drives. But if you need a Nas to connect to two networks and want a secure FTP server, Buffalo's got the goods.
Verdict
The Terastation III's price tag is a step above most other Nas boxes, but its features are a step above too. While the lack of eSata interfacing seems a bit remiss, the SFTP support, dual Lan ports and comprehensive applications for both Mac and PC, suggest this Buffalo has enough beef for power users to chew upon. ®
More NAS Reviews...

Promise
Smartstor NS4600

Western Digital
Sharespace

Cisco Linksys
Media Hub

EZY Technologies
MyXerver MX3600

Buffalo Terastation III
Pricey, but the encrypted FTP, Raid options and dual Lan ports will appeal to demanding users
Price:
2TB £699, 4TB £899, 6TB £1199, 8TB £1399 RRP