Buffalo Terastation III
The paranoid user's Nas of choice
If you can't physically locate the find Terastation III, NasNavigator2 will prompt the unit to play a short musical tune so you can scamper around, listening out to find where you've put it. Finally, there's an EXT3 reader on the CD, so you can read the Terastation III's hard drives if the Nas dies. However, we couldn't test this feature as it will only read drives connected to a USB port, rather than the internal with Sata drives.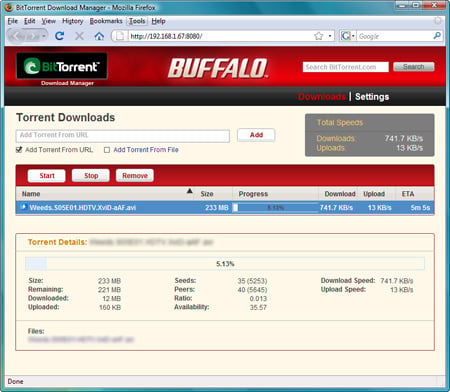 Bittorrent downloads are managed from a browser interface
The firmware supports all the usual file sharing protocols you'd expect from a high end Nas, as well as DLNA and Xbox 360 streaming, Bittorrent downloading and support for 100 simultaneous users. Buffalo has even included SFTP support, something that's not even native to the all-powerful Synology Nas boxes. SFTP uses SSH RSA encryption to keep data safe from prying eyes when transferred over a network, and requires quite a bit of horsepower to perform the encryption/decryption. In tests, SFTP slowed read and write speeds to 3.09MB/s and 0.94MB/s respectively.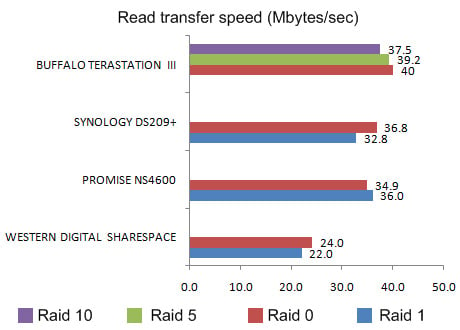 Read speeds are top notch, outclassing many other drives
Buffalo doesn't advertise it much but, the Terastation III includes a decent dynamic DNS service in a section labelled WebAccess under the Extensions web configuration page. All you have to do is pick a name and password for your Nas and, once you've clicked save, you can access your files from www.buffalonas.com. We found the process was much easier than most other Nas boxes, although in the Windows world, Lacie remains king in the gateway DNS area, with its PC application that'll work through the process for you.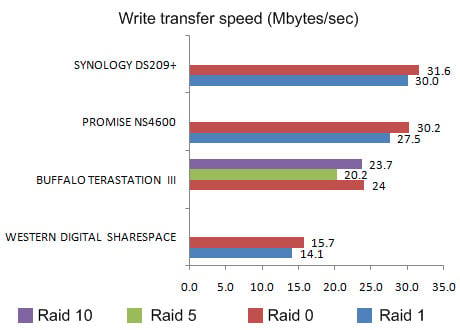 Write speeds were average, perhaps due to juggling four drives
To test real world file transfer speeds, a 901MB file was copied in Windows Explorer across a gigabit router with jumbo frames disabled. With four disks present, the Terastation III can create Raid 0, Raid 5 and Raid 10 arrays, and all modes were evenly matched for speed. The obscure sounding 800MHz Marvell Vault 78100 processor, with 512MB Ram, powers the Nas and ensured excellent read speeds and average write speeds.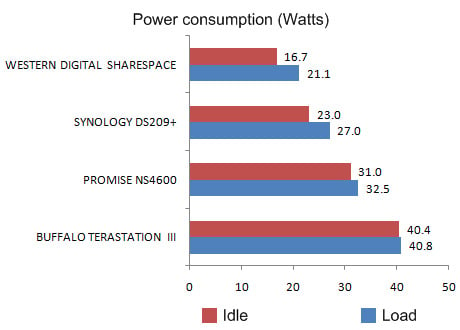 Buffalo stance: power consumption tops the charts
Power management appears, at first glance, to be excellent. The hard drives are spun down and a scheduled sleep function lets you turn the Nas off and on again to limit noise and energy consumption. A switch on the back of the Terastation III can be set to manual – in which case the sleep schedule is observed – or automatic. In automatic mode, the sleep timer is ignored and the TeraStation will turn itself on when it sees a computer awake on the network and go to sleep once all network computers have shutdown.