Canon Digital Ixus 95 IS
Small wonder?
The Ixus 95 IS is very easy to operate, which is just as well, as Canon persists in supplying its cameras with just a printed, basic start-up guide – which barely progresses beyond switching on the camera – hiding the full instruction manual as a PDF on CD. Power on is swift, with the Ixus 95 IS ready to shoot within two seconds. Another thing you notice is that, despite its compact size, the camera is quite noisy during operation, especially when the auto-focus kicks in.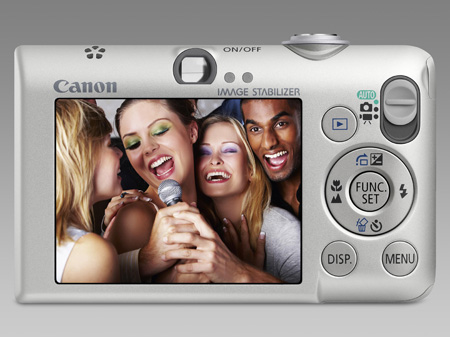 Various detection systems improve shooting and ease of use
The menu button reveals a tabbed navigation system. Here, you can adjust various set-up items including LCD brightness and a selection of camera settings, such as digital zoom and flash settings. One grumble is that the i-Contrast setting is on a second menu page, as it would be handy if this was easier to access.
The Function Set button takes you into the familiar Canon L-shaped menu with various icons for adjusting ISO, white balance, file size, colour effects, metering mode and drive mode. In terms of shooting modes, you can choose from 17 that include, auto, program AE, portrait, sunset and ISO 3200.
The LCD screen is a bit of a disappointment, especially if you're used to using cameras with 3in displays. It was also difficult to view in bright sunlight and so full marks to Canon for including an optical viewfinder. It's a bit on the small side, and you certainly don't get a 100 per cent field of view, but we found it very handy when using the Ixus 95 IS outdoors in bright conditions.
The auto-focus system is fast and soon locks onto the target, and the Scene Detection system very quickly determines what you're shooting. Face Detection – which can detect up to 35 faces in a shot – is swift and accurate. We're also big fans of the Face Self Timer system, which means no more racing to get in the shot when you use the self timer, because the Ixus 95 IS won't shoot until it detects an additional face in the frame.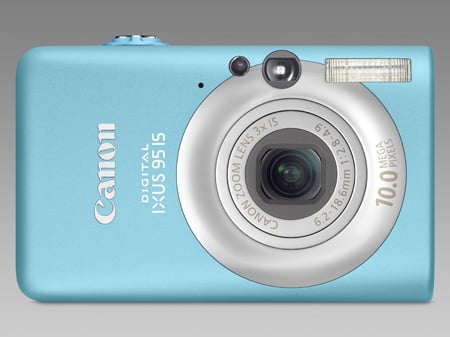 The optical viewfinder overcomes LCD issues in bright conditions
However, we did find the optical zoom somewhat uninspiring, both at the wide angle and telephoto ends; it was especially frustrating when trying to zoom in on a distant object. Battery life is rated at 260 shots with the LCD switched on and we had no problem shooting around 200 frames and some video footage on a single charge.
Sponsored: Minds Mastering Machines - Call for papers now open