Asus prices up tablet netbook
Eee T91 Bouncing into Blighty next month
The Eee PC T91 touchscreen tablet netbook will finally arrive in Blighty next month - more than six months after the machine was first demo'd.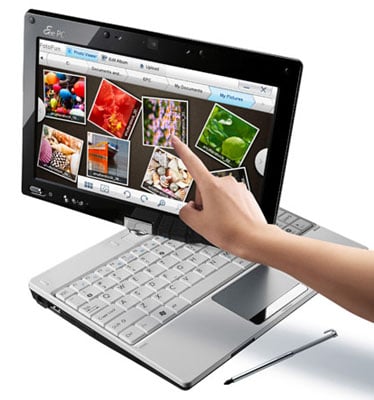 Asus' T91 tablet-cum-notebook
The eye-catching T91 first turned heads back in January at CES, but Asus has left it until now to confirm that the machine will be available from "early July" at a cost of around £450 ($740/€527).
Central to the T91's allure is its 8.9in swivelling display, which means you can also use the machine as a regular netbook. Under its lid you'll find a 1.33GHz Intel Z520 Atom CPU, Intel US15W chipset and 1GB of DDR 2 memory.
Buyers will have access to 36GB of storage on the T91, Asus claimed. But it has craftily carved that up between the on-board 16GB SSD and 20GB capacity at the firm's online storage centre, Eee storage. Some models may also come with a 30GB external HDD and you can add SDHC cards of up to 16GB capacity.

Click here to see the T91 in action on video
Speaking of memory cards, the T91 features a three-in-one reader. You'll also get two USB 2.0 ports on the machine.
The T91 has a 0.3Mp webcam built into its lid. Bluetooth and Wi-Fi 802.11n are both supported, Asus said.
You'll be able to choose between a white or black body for the T91, but both colour options come with Windows XP Home pre-installed. ®
COMMENTS
Pricey- and with a crap processor......
Who is going to pay £450 for a touch screen netbook, with a really awful processor and very low onboard storage? Perhaps the same question was asked of the 701- when it debuted- but at least it had price in its favour. At £450- I can get a very reasonable laptop- just why would I spend that sort of money on this plaything?