TTXGP e-bikers finish qualification run
Winner hits 102mph on Sulby Straight
Leccy Tech The first official practice and qualification runs for the upcoming zero-emissions motorbike GP – TTXGP - have taken place on the Isle of Man.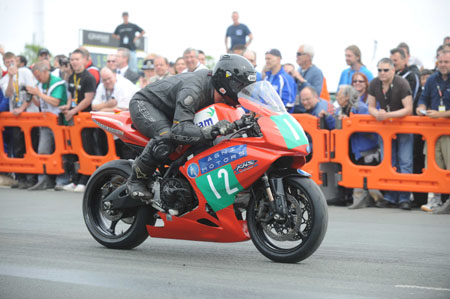 Rob Barber (above) finished the TTXGP qualification in first place
Of the 14 bikes that lined up for the first qualifying session, 10 managed to complete the demanding 37.7-mile Mountain Course.
The fastest bike over the line was ridden by Rob Barber, who managed one lap in a little over 26 minutes. Barber also hit a top speed of 102mph on the course's Sulby Straight and averaged 84mph.
Barber's Team Agni bike is based on a 2007 Suzuki GSXR 600, fitted with two Agni 95 motors and a 63-cell 16kWh lithium-polymer battery. His team said that the bike's set-up produces 40 - 50 horsepower on average over the race's entire length.
The second fastest lap was won by the Isle of Man's own ManTTx team, thanks to rider Dan Kneen and his time of just over 32 minutes. Third fastest lap went to the US-based Barefoot Motors Racing team and rider Chris Petty.
TTXGP has been organised by eGrandPrix and kicks off tomorrow.
Sponsored: Minds Mastering Machines - Call for papers now open