Intel Core i7 975 Extreme
Nice - but the cheaper, updated i7 920 is nicer
We found that all three processors would happily overclock to the same speed of 3.8GHz or 3.9GHz with air cooling and modest amounts of power. The exact speed depends on your motherboard and memory, but, broadly speaking, an overclocked Core i7 920 delivers the same performance as an overclocked Core i7 940 or 965 Extreme.
Anyone in the market for a Core i7 would be out of their mind if they considered any model apart from the 920, so Intel couldn't follow its usual plan. If it brought in the 975 Extreme at the top of the range and reduced the price of the 965 Extreme, 940 and 920 it would effectively be throwing away profit.
So it has replaced the 965 Extreme with the 975 Extreme and further down the range the 2.93GHz 940 has been replaced by the new 3.06GHz 950. The Core i7 920 remains in place at the same 2.66GHz speed.
At the time of writing the prices of the five models are:
Core i7 920 2.66GHz at £228 OEM, £240 retail
Core i7 940 2.93GHz at £425 OEM, £431 retail
Core i7 950 3.06GHz at £446 OEM, £485 retail
Core i7 965 Extreme 3.20GHz at £770
Core i7 975 Extreme 3.33GHz at £802
You may be wondering where Intel found the extra 133MHz for the new 950 and 975 Extreme models and the answer lies in a revision to the stepping. The three original models were all released on Stepping C0: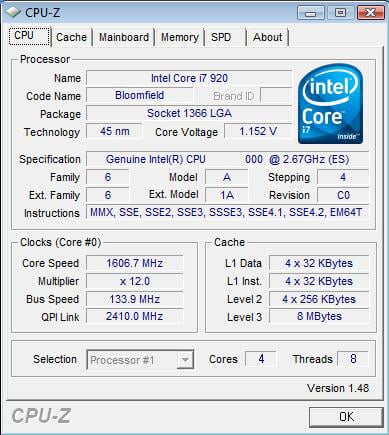 Sponsored: Minds Mastering Machines - Call for papers now open