Intel Core i7 975 Extreme
Nice - but the cheaper, updated i7 920 is nicer
At the stock 2.66GHz speed, the D0 draws 15W less power than the C0. When we overclocked it to 3.9GHz (20 x 195MHz) using a core Voltage of 1.35V, the difference in power draw increased to 55W in favour of the D0. This was looking very promising, and we fully expected that the 920 D0 would go even faster but things didn't work out that way.
Power Draw Results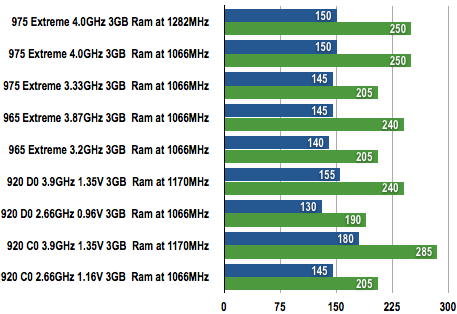 Power draw in Watts

We could overclock to 4GHz (20 x 200MHz) on 1.35V but the system crashed repeatedly while encoding files in DivX 7. When we fed the 920 D0 1.40V and bumped the speed further to 4.1GHz (20 x 205MHz), it became even more flaky.
The power draw of the D0 at these increased speeds was still lower than the overclocked C0 but the performance simply wasn't there. We can't comment on the performance of Core i7 950 as we have yet to see one but we suspect it will follow in the footsteps of the new Core i7 920 and will be slightly slower than the new 975 Extreme.
You have to ask yourself why Intel brought out the 975 Extreme and the only logical answer is that it doesn't want to be seen as a company that rests on its laurels. Instead, it constantly strives to make progress and keep ahead of that pesky AMD.
No matter what the reason, the D0 Stepping is a success. But let's face it, you're not going to spend £800 on a new desktop processor and you probably don't know anyone who will. You should, however, cough up the necessary for a new Core i7 920 for which the D0 Stepping is the key to a world of gaming goodness. It overclocks superbly well and the reduced power draw is quite remarkable.
Verdict
Intel has given the Core i7 family a buff and wax with the new D0 Stepping, and the reduction in power draw is deeply impressive. ®
More CPU Reviews...
| | | | |
| --- | --- | --- | --- |
| Intel Xeon W5580 | AMD Phenom II Socket AM3 | Intel 'Nehalem' Xeon 5500 | Intel Core i7 'Nehalem' |
Sponsored: Minds Mastering Machines - Call for papers now open

Intel Core i7 975 Extreme
It's fast and more energy efficient than ever - but you'll pay through the nose for this flagship part.

Intel Core i7 975 Extreme
With all the advantages of the D0 upgrade and good scope for overlocking, there's no need to choose a pricier processor than the 920.