Comet opens e-car power car park
Recommends emailing ahead to check cable availability
Leccy Tech If you're delaying the purchase of a leccy car because of the cost of the juice, then electrical retailer Comet may have a solution: free power.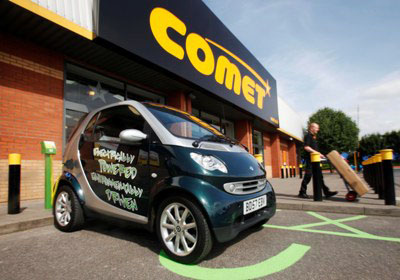 Plug it in while you load it up
From today, Comet will offer customers free e-car power from "Plug & Go" points located in the car park of its Purley Way superstore in Croydon.
Although just a trial, if all goes well the firm will will install more e-car charge points at its other 250-odd UK stores in the coming years, Comet said.
For a key to a power point, cutomers must either e-mail Comet directly or ask in store. The key will be yours to keep, but you'll just have to hope there's a slot available when you turn up.
It hasn't yet been confirmed if you'll have to buy something before Comet will grant you access to its charge points, which are available between 9am and 9pm on weekdays, 9am and 7pm on Saturdays, and 11am and 5pm on Sundays.
Comet expects customers to use the store's e-car points for no longer than two hours, but the firm hasn't said what it'll do if you plug in at 9am at return at to collect your e-car at 4pm.
Hugh Harvey, Comet's Managing Director, hinted that the firm may even add e-cars to its product line-up in the future.
Update
Comet has since confirmed that customers won't be required to buy anything in store before being granted access to the power pumps. Each point can also be used for as long as you like, during shop opening hours. ®
Sponsored: Minds Mastering Machines - Call for papers now open