Philips GoGear Opus personal media player
Some small screen shortcomings, but sounds sweet
Sound quality is helped by Philip's inclusion of a rather decent set of canal style earphones. Again, these are not Sony quality, but they are still very comfortable and produce a fine sound with solid bass and good definition. A pity Philips doesn't supply different size sets of rubber ear buds – the one set you do get are just a bit on the small side.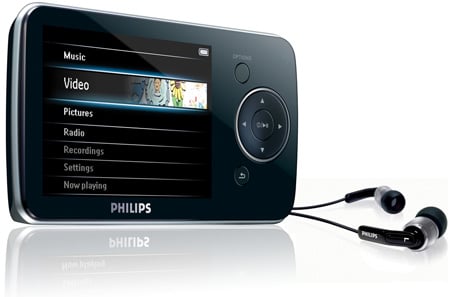 Video features tend to be limited on such small screens, but the sound is excellent
Fortunately, Philips fully recognises the value of playlists and tracks can easily be added to an on-board list or any number of them can be synchronized via an MTP media player. Beyond media playback the Opus also comes fitted with a rather fine RDS FM radio, complete with 20 pre-sets and an off-air record facility and a voice recorder. All recordings are encoded as MP3 files.
Rummage about in the menu and the Opus will let you set its computer connection to either MSC or MTP so Linux and Mac users won't be left spinning in the wind. Philips claim the 880mAh battery is good for 30 hours of audio and six of video but, as is usually the case, we found those numbers to be a just a shade optimistic and only managed 26 and 4.5 hours, respectively.
The Opus comes bundled with a re-branded version of ArcSoft's MediaConvertor for video reformatting and a video download tool for snagging videos from YouTube and the like. Buyers also get a free 30-day trial membership of Napster To Go, the chance to download a free audio book from Audible and plastic slip case.
At £99 for the 8GB and £129 for the 16GB version, the Opus seems reasonable value for money considering you pay around £20 more for a 16GB Samsung P3 and a whole lot more for a 16GB Sony X-Series Walkman. Indeed, both of those devices are better video players but, if most of your time is going to be spent listening to music, we reckon the Opus makes a fair degree of fiscal sense.
Verdict
The Opus is another solid effort from Philips, its conservative looks, slow start up time and merely adequate video performance notwithstanding. In its favour it produces a very good sound, is extremely easy to use, has a very fine FM radio, decent format support, comes bundled with a pair of earphones that you don't need to immediately replace and doesn't cost the earth. All Philips needs to do now is make a version with a 4in VGA screen and a microSD expansion slot and we'll be singing its praises. ®
More PMP Reviews...
| | | | |
| --- | --- | --- | --- |
| Sony X-Series Walkman | iRiver P7 | Samsung P3 | Archos 7 |
Sponsored: Minds Mastering Machines - Call for papers now open

Philips GoGear Opus personal media player
A fine sounding, well made, easy to use media player with decent codec support and quality earphones
Price:
8GB: £99, 16GB: £129 RRP