Philips GoGear Opus personal media player
Some small screen shortcomings, but sounds sweet
The Opus also carries over two features from the Spark, one of which we like and one we don't. The first is the ability to display album cover art as the background of the Now Playing screen. The second is the rather lengthy amount of time the player takes to update and load the media library when it is switched on. As you would expect, the update time gets longer the more media your Opus is loaded with. We suspect that waiting for a fully loaded 16GB Opus to get its act together could become just a shade wearisome after a while.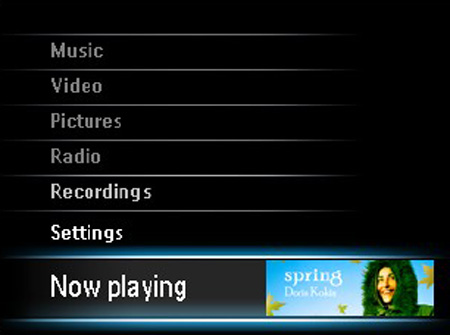 Navigation aid: 'Now playing' appears as a shortcut at the end of the main menu
The Opus supports MP3, WMA, AAC, FLAC and Audible (.aa) audio files along with WMV and AVI – DivX/Xvid – video and JPEG image files. It's a reasonable selection, with H.264 being the only glaring omission, though it would have been nice to see Ogg support too. Like every other device with a 2.8 or 3in screen the Opus falls into a sort of a PMP no-man's-land – for decent video playback you really need a screen that is at least 3.5in corner-to-corner, while just music library access can get away with 2.5in or less, so the player can be smaller.
Even with that caveat, the Opus is no more than an adequate video player. To start with the 4:3 screen has a habit of rendering certain files in full screen and since there is no option to change the aspect ratio you are stuck with a squashed image. Secondly, the Opus is wholly intolerant of files above its native resolution; hence, content usually has to be reformatted, but there is bundled software to take care of this. Finally, the maximum fast-forward / rewind scan speed is x4 – which is too slow by a factor of at least two.
To wrap up the video negatives the Opus doesn't support SubRip (.srt) subtitle files nor can you add bookmarks to video files, though it will at least remember where it stopped playing the last video file accessed. This last fault is particularly annoying as you can add bookmarks to audio files. On the plus side, video playback proved clear, crisp and bright with decent colour saturation. The screen was remarkably tolerant of oblique viewing angles too. The Opus also supports PlaysForSure DRM, so you can watch videos downloaded from iPlayer. By way of a test we downloaded an episode of Top Gear and found it eminently watchable on the Opus.
As with the GoGear Spark, sound modification software is limited to Philips' proprietary FullSound system. We were impressed with FullSound when we first came across it on the Spark and are no less impressed with it on the Opus. It's easy to use, gives the music a pleasant sense of warmth and depth and doesn't require that you spend half an hour setting it up as is the case with iRiver's effective but mind bogglingly complex SRS WOW system. The Opus also offers ten EQ settings.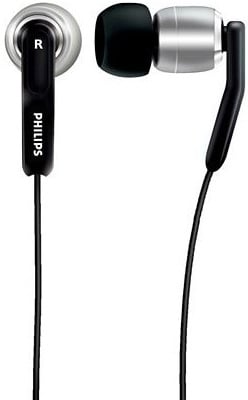 Head candy: undoubtedly, one of the loudest PMPs we've tested
After chucking a selection of our favourite albums at the Opus, we wouldn't say it is the best sounding music player we have come across of late – that accolade still belongs to Sony's S-Series Walkman – but it's certainly up there with the best of the rest from the likes of Sandisk, Samsung, iRiver and Cowon and is considerably better than anything you can get from Apple. It also has a lot of volume on tap. In fact it's just about the loudest player we have tested of late.
Sponsored: Minds Mastering Machines - Call for papers now open