Intel has vaguely said of Pineview that "graphics move onto the processor", but based on what we know about Lincroft, 'graphics' means not only the 2D and 3D processing core but also a video decoder and a display controller. Like Pineview, Lincroft has its own memory controller. What types of memory they will support has not been disclosed, but single-channel DDR 2 running at up to 667MHz seems the most likely memory spec.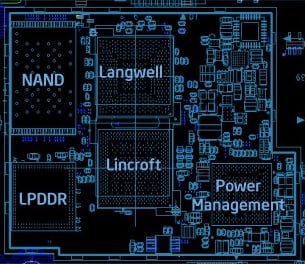 Moorestown on a motherboard
Lincroft's CPU core is codenamed 'Bonnell', and it's essentially a Silverthorne processor taken from today's Atoms. Given that Lincroft will be fabbed at 45nm - as Silverthorne is - it's no surprise that the new processor will be somewhat bigger. Silverthorne has die area of 24.2mm² whereas Lincroft's will be 69mm² - almost three time the area.
Accompanying Lincroft will be a new I/O chip, 'Langwell', which will handle audio, USB, memory cards, directly connected Flash storage and ATA devices. It'll also have a phone camera controller, which its predecessor, 'Poulsbo' - shipping as the US15W - lacked. Then again, Poulsbo had PCI Express linkage - Langwell doesn't.
Tiger Point does, though, and Serial ATA besides. It clearly will provide more laptop-style features, supporting the devices and interconnects a netbook will need while an MID will not.
That explains, in part, why Intel's not being specific about Pine Trail's power consumption characteristics. Moorestown was originally hailed as burning only a tenth of the Wattage of its predecessor - codenamed 'Menlow', and the combination of Silverthorne and Poulsbo - in standby mode at least. Earlier this year, Intel said the platform would now consume only one-fiftieth of Menlow's standby power demand.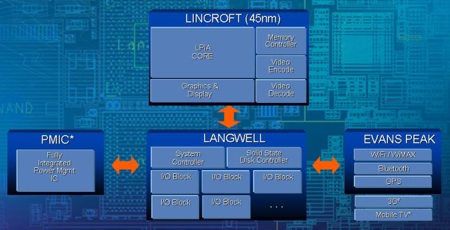 Moorestown itself looks a lot like Pine Trail
Going flat out is another matter, of course, and that's not only why Intel only talks about Moorestown's idle power consumption but has, since first discussing the platform in public, downgraded it from the basis for both MIDs and smartphones to just MIDs.
COMMENTS
As any fule kno
"spotting the missing 'm' from Atomms"
Or the redundant 'h' in Whizz..?
(http://en.wikipedia.org/wiki/Geoffrey_Willans)
I didn't think you guys were old enough!
@Rich 3
Top marks - but lose a point or two for not spotting the missing 'm' from Atomms.
For everyone else, look and lurn...
http://www.stcustards.free-online.co.uk/
Down With Skool
Just to show I recognised the reference...
Intel VT-x
Actually, the faster Z series Atoms are Intel VT enabled
http://ark.intel.com/ProductCollection.aspx?familyID=29035
Annoyingly, none of the current Atom chips that have Intel-TV are 64 bit capable. I really hope they plan to change this in the future...
@Hetz Ben Hamo
Yes it did - look on the last page!
"Like today's desktop Diamondville's, the Dx10 series will support 64-bit computing. Early indications... are that so too will the N450."