Whizz for Atoms: inside Intel's next netbook generation
Picking up the 'Pine Trail'
It hasn't said how much longer netbook batteries will last with Pine Trail in the driving seat, but that 1W reduction in TDP doesn't suggest an awful lot. Like Diamondville, it has SpeedStep technology to lower the clock frequency when it can, and we've seen documentation that points to an average platform power consumption of 2W - half that of the 4W the N270/945GSE combo eats up on average.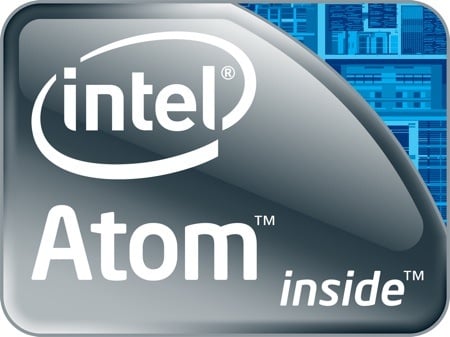 Intel does like to talk about thin, fanless designs, but always with the caveat that "finless [machines] may require configuration trade-offs depending on scenario power workload" - they won't run as quickly as kit with fans will, in other words.
That suggests we're not suddenly going to get six-hour or longer runtimes from slim, three-cell batteries, so netbook buffs won't see the end of machines with bulging batteries hanging off the back just yet, even if the lower power consumption figures suggest otherwise. Recall how disappointed we all were with early netbook battery lives, especially after being all Intel's talk about how Atom was such a low-power part.
No, Pine Trail seems more about delivering better performance - graphical horsepower in particular - within the same machine designs, at a slightly reduced cost. Lower cost to vendors that is, not necessarily to consumers.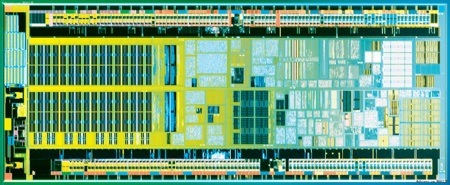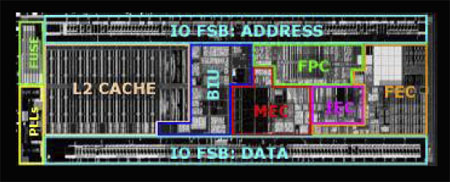 Inside Silverthorne: Pineview's CPU until will be much the same
Intel hasn't detailed Pineview's on-board GPU specs, but it's expected to be the same GMA 500 core found in today's US15W chipset. It'll run at 200MHz, up from the 133MHz the GMA 950 core in the 945GSE chipset is clocked at. The GMA 500 is essentially Imagination Technologies' PowerVR SGX core. Unlike the 950, it's a full DirectX Shader Model 3.0 part, so it's better for gaming, and it has VC-1 and AVC/H.264 decoding as well as being able to handle MPEG 2. The 950 didn't have hardware support for those HD codecs.
Sponsored: Minds Mastering Machines - Call for papers now open