Whizz for Atoms: inside Intel's next netbook generation
Picking up the 'Pine Trail'
Smartphones won't seriously be contenders for Intel chippery until the 32nm 'Medfield' ships some time in 2011. Medfield, incidentally, uses the smaller process to cram the I/O into the processor package in a system-on-a-chip design. That aside, it's essentially a Linfield die-shrink containing a - smaller this time - Bonnell CPU core. We'd expect the 32nm version of Diamondville/Pine Trail to be the same.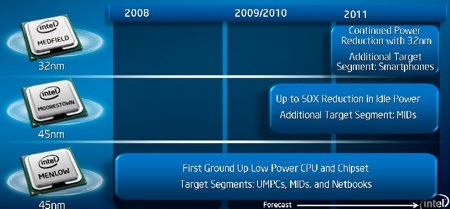 Cutting power: the move to 32nm Atoms
Back to Pine Trail, and Intel will only say its TDP will be lower than the version currently on sale. That - the 945GSE chipset combines with either the 1.6GHz N270 or the 1.66GHz N280 - consumes 8W.
We can say The Pineview/Tiger Point combo will consume 7W when the processor's clocked at 1.67GHz. We've seen slides indicating Pineview will have 512KB of L2 cache on board. So does Diamondville, which suggests that just as Lincroft is an existing Silverthorne with added northbridge bits, so Pineview is Diamondville plus said.
Whether Pine Trail will come to market with a 1.66GHz clock speed remains to be seen, but that's certainly what the most recent roadmaps suggest. Intel may trade that 1W-lower TDP for a higher clock speed, but we suspect it will primarily pitch Pine Trail on its graphics performance, as Nvidia is trying to do with its Atom-oriented chipset, Ion. Intel, for now, isn't saying. It all depends on whether punters value battery life more than performance, or vice versa. Since it's netbooks we're talking about, the former seems more likely.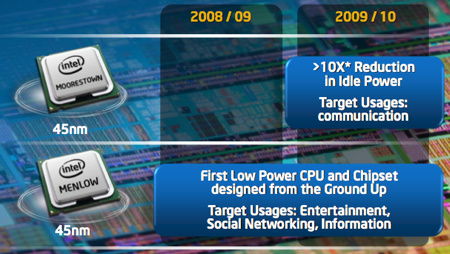 Intel used to talk about a >10x idle power reduction
Battery life will certainly be a driver for Moorestown which will have a thermal envelope of 1.5-2W, but its usage model delivers a "scenario power" average consumption of 0.3W. Idling it consumes just 20mW, apparently. That's delivered by power-gating Lincroft's cores, allowing them to be turned off entirely. There's a cost - the time taken to power up a core and restock its cache memories - but the power savings overall should boost battery life considerably, Intel reckons.
Eight hours, it says, with an always-on wireless connection.
Sponsored: Minds Mastering Machines - Call for papers now open