The best netbook-friendly Linux distros
Android on your Eee, anyone?
Ubuntu Netbook Remix 9.04
Prior to Ubuntu 9.04 - aka 'Jaunty Jackalope' - you could only get the Ubuntu Netbook Remix interface built into other distributions such as Eeebuntu or Ubuntu-Eee (now Easy Peasy). Both of these were unofficial Ubuntu remixes, so usually a little behind the curve.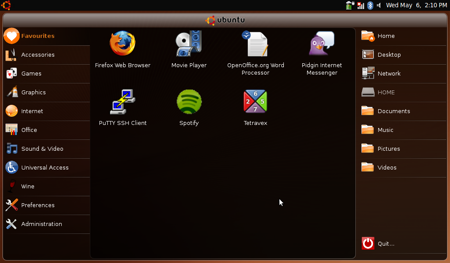 Ubuntu offers a good netbook-ready UI
Unlike the rest of the Ubuntu releases, which come as an ISO to be burnt to CD, the netbook version comes as a file ready to be written to a USB stick – handy, as almost all netbooks don't have optical drives. This good thinking is indicative of the OS itself.
The underlying system is the same as the desktop Ubuntu 9.04 so has everything you'd expect from the complete distribution, including full support for 3G dongles – even split mode. All three of our test netbooks had excellent functionality, with everything working out of the box.
The AA1 was the least happy with Ubuntu, presenting some minor issues with the SD slots and the indicator light for the Wi-Fi. With the Ubuntu community as large as it is, it's no surprise that there are already fixes for these issues on its forum.
The only other issue, which affects other machines as well as netbooks, is the poor performance of Intel graphics cores in Jaunty. On the EeePC 701, for example, the effect is so severe that UNR is almost unusable without some tweaking.
This performance degradation is really noticeable when you're watching YouTube videos full screen or trying to play HD content. For general use and SD playback, it's fine, so whether this will be a problem for you depends on how you use your netbook.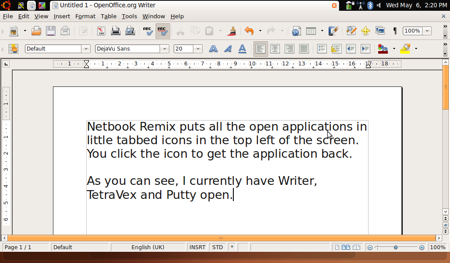 To cater for the small screen, apps auto-maximise
The netbook-specific portion of UNR is the interface. Split into three panes, the UI presents icons for menu entries, much like you'd find in the launch menu, for your applications and, on the right hand side, for commonly accessed folders such as documents, or the local network. It's a little like the Asus Eee PC interface, but much more adult and customisable.
Incidentally, it's a lot easier to use in moving vehicles than the standard desktop is.
Sponsored: Minds Mastering Machines - Call for papers now open