E-bike TT race to include e-cars next year
Plus battery-swap pit stops for bikers
Leccy Tech The flag's yet to drop on eGrandPrix's inaugural zero-emission TTXGP trials, but that hasn't stopped the organiser from announcing its plans for next year's race.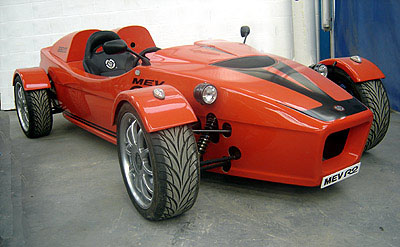 LifeBatt's prototype R2 EV: will race in 2010's TTXGP
Come 2010 riders will cover two laps of the Isle of Man's famous Mountain Course, with riders also able to make pit stops to swap out dying battery packs.
The other big change to next year's TTXGP is that it'll also feature e-cars, although it's unlikely that e-bikes and e-cars will race simultaneously.
The battery-swap provision will be limited to two-wheel runners, which – sadly - dispels any images of a pit lane lined with Better Place battery swapping machines.
High-performance battery maker LifeBatt is planning to race its prototype R2 EV e-car in 2010, and several other leccy car firms – including California-based Saba Motors and UK-based JJAD – are also thought to be considering entering teams into the TTXGP next year.
LifeBatt will supply battery packs to several of this year's runners. The firm's Director, Ian Goodman, promised: "By 2010 we will have a new, higher performance generation of battery pack available."
He even added that experience gained from this year's race will enable the company to develop the R2, ahead of TTXGP 2010.
On the two-wheel front, Evo Design Solutions has already confirmed that it will enter the 2010 TTXGP.
The flag is set to drop on TTXGP 2009 on Thursday Friday. ®
Sponsored: Minds Mastering Machines - Call for papers now open