Orange Vegas
Less Elvis, more Johnny?
There's a bit of swipe action as well as simple screen pressing. The automatic homescreen lock can be opened with a sideways swipe and the main menu can be engaged with a vertical finger stroke. You can press menu keys to achieve the same results.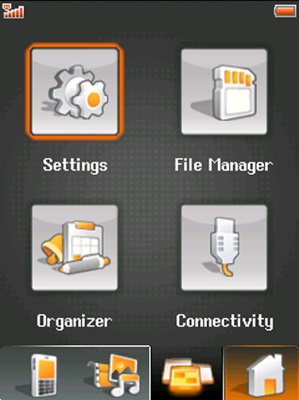 The UI's almost as easily controlled from the buttons as the touchscreen
Swiping across the clock at the top of the homescreen opens up a bank of eight shortcut icons. Four of these are already set, although all eight can be re-defined in the menus, as can the four navpad shortcuts.
There's haptic feedback to confirm that some screen presses have been activated, but not all. This can be a bit disconcerting. With menu lists, for example, you don't get feedback. As this touch UI isn't the quickest to respond, you can find yourself momentarily wondering whether you've tapped correctly.
Dialling a new number requires a simple press on one of the homescreen icons to bring up the numberpad. Keys are reasonably sized, though we found our fingers straying onto adjacent keys. One way to avoid this is to use the telescopic stylus slotted into the back panel.
This provides a more reliable way to select some options on the small display and especially for SMS. Fast texting is often troublesome on touchscreen phones, and the Vegas is no exception. Again, you have to be very careful with your letter-pressing, and the larger-fingered may find it tricky to use without a stylus. The predictive word-selection system may also be unappealing. It only adds words to the main body text when you've selected from the options offered in a bar beneath. It works, but it's still not as simple or fluid as the most other phones make it.
A Qwerty keyboard is available, though the character keys are absolutely tiny – the stylus is most definitely required. Alternatively, there's a handwriting recognition option for text input.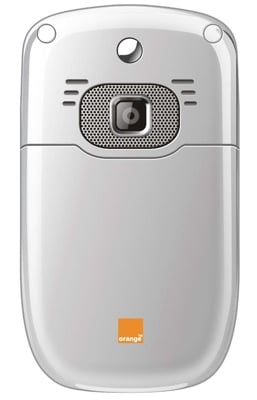 The camera's mediocre
Among the selection of regular phone features at users' fingertips, the Vegas's music player is somewhat disappointing. Its control interface looks attractive, but the music content menu is pretty basic, listing tracks in rudimentary order without the usual category headings. And if you want to listen to tunes on the phone, adding a memory card is essential. Orange claims that this phone has 64MB of memory, but our review sample had only around 0.5MB of free available user storage – not enough for a single MP3 track, and barely enough to hold a handful of pictures. The Vegas supports Micro SD cards of up to 4GB capacity, though one isn't supplied.
Sponsored: Minds Mastering Machines - Call for papers now open