Anti-Eurofighter Downing Street e-petition started
Pay taxes and/or support our troops? You should sign
Comment A petition urging Prime Minister (for the moment) Gordon Brown to cease all further spending on the controversial Eurofighter Typhoon third tranche has appeared on the Downing Street website. The petition could gain substantial support among the army, the navy and those who support them: it's unlikely to find favour with the air force community.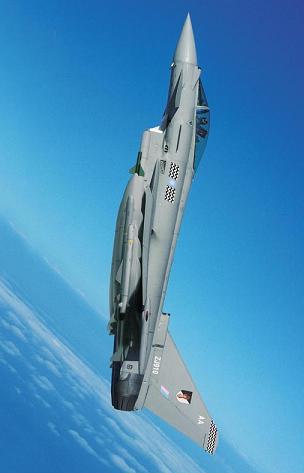 Climbs fast and high: Like the price.
For those not in the know, the Eurofighter project is a collaboration between the UK, Germany, Italy and Spain. It began in 1985, and was intended to produce an air-to-air superiority fighter which could take on the last generation of Soviet superjets above the postulated conventional battlefields of Europe should the Cold War have turned hot.
Almost from the outset, the Eurofighter started to miss cost and time targets. In the 1990s the project was renamed "Eurofighter 2000" in an attempt to disguise the fact that it had originally been meant to produce some planes by 1995. This ploy backfired badly, however, as the year 2000 came and went without the arrival of any jets.
The RAF finally stood up a Eurofighter unit in 2005, and the plane was declared operational for air-defence duties in 2007 - over two decades after its inception. Some of the initial Tranche 1 and 2 jets have since been modified with Israeli-made target designation pods and the ability to drop smartbombs, allowing the aircraft to have some relevance to modern battles against enemies without significant air forces. However, this is regarded by the RAF as an "austere" capability.
Sponsored: Minds Mastering Machines - Call for papers now open