Fortune 1000 in Cisco California rush
Sachs survey shines on Cisco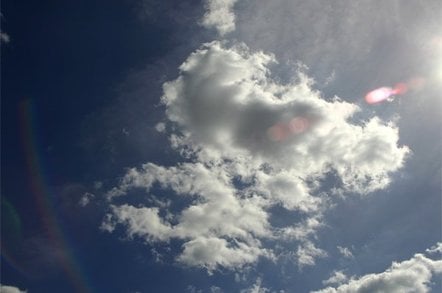 Are the big companies that Cisco Systems is targeting ready to seriously consider the networking giant as a server provider for their data centers? Apparently so, if you believe the results of a recent survey of Fortune 1000 customers done by investment bank Goldman Sachs.
As part of its launch of the C-Series rack-mounted x64 servers last week - and its plans to build out its sales channel to cover server infrastructure - Padmasree Warrior, Cisco's chief technology officer, picked some juicy statistics that were plucked from Goldman Sachs' 46th IT survey, which polled a hundred IT executives at Fortune 1000 companies to get their views on various technology issues.
Because of banking regulations, you have to go through a process to get a copy of a such a report or even talk to Goldman Sachs employees, and after we jumped through a few hoops, Simona Jankowski, the analyst who put together the GS IT Survey report was able to send it to El Reg for a look-see. One of the key things Jankowski wanted to figure out in the survey is what Fortune 1000 shops were thinking about Cisco's "California" Unified Computing System, which was launched in March and which begins shipping at the end of June.
According to the survey results, almost two-thirds of the IT execs polled said they expected Cisco's servers to gain market share in the data center over the next two to three years. (Of course, considering that Cisco currently has no market share in the server racket today, by definition it would have to gain share.. But you know what Goldman Sachs was trying to ask, which was: Over the next two to three years, will Cisco have a piece of your server budget?)
In that same survey, Hewlett-Packard and Dell were also seen as gaining share, while Sun Microsystems and IBM were predicted as losing share. Jankowski and her colleagues working on the survey report attribute this mainly to a shift towards x64 platforms and away from Unix boxes, and the IBM shift would be due to its relative weakness in blades and ongoing declines in Unix in the coming years. (IBM might have dominant share in Unix, and Unix might be holding up better than x64 servers in recent quarters, but long term, everyone on planet earth would predict that the best that proprietary and Unix platforms could do is just hold revenues more or less steady).
Significantly, of the companies polled by Goldman Sachs, 2 per cent said they are evaluating the UCS boxes right now and another 16 per cent said they would be evaluating it within the next twelve months. Given this, Goldman Sachs is predicting that Cisco will gain about 1 per cent share in the server racket in 2010. It is hard to say how much revenue that might be, but the market will probably be somewhere around $45bn this year, and maybe $47bn in 2010, unless the virtualization crunch really kicks in.
(By my estimates, we're talking about maybe around $500m in server sales for Cisco in 2010, provided it sells maybe 10,000 machines this year and 100,000 machines next year, if you go by Goldman Sachs' 1 per cent figure and you assume the average selling price of the blade server is around $5,000 configured).
Of those companies polled by Goldman Sachs, 38 per cent said they were unsure if they would evaluate the California products in the next twelve months, and 44 per cent said they would not. So even though nearly two-thirds said they expected Cisco to gain some traction in servers in the next two to three years, most shops are taking a wait-and-see attitude. Which is absolutely consistent with the way large IT organizations think and act.
In fact, the amazing thing is how many people said they are kicking the tires or plan to on UCS. That probably has more to do with the relatively small sample and the nature of the Fortune 1000 businesses than anything else. It is important not to confuse the server buying habits of the Fortune 1000 with the world at large - and small, as it were.
Sponsored: Minds Mastering Machines - Call for papers now open