Remembering the true* first portable computer
*The one that melts your face off
Just a Minuteman
On February 27, 1958, the Air Force secured approval to develop the Minuteman program. The goal was mass-production of efficient, highly-survivable intercontinental ballistic nuclear misses that could sit unattended for a span of years.
The Minuteman 1's missile guidance computer was a bleeding-edge 24-bit microcomputer made by Autonetics Division of North American Aviation. The 62-pound, fully solid-state computer contains 6282 diodes, 1521 transistors, 1116 capacitors, and 504 resistors mounted on 75 circuit boards. Memory is a 5,454 words (2,727 double precision) and its speed tops out at 12,800 additions per seconds.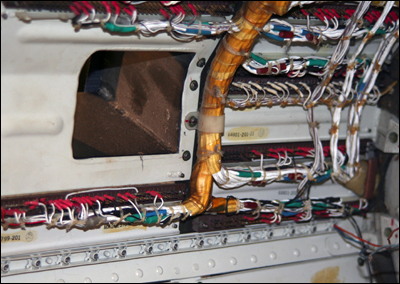 The guidance system was the most advanced for a ICBM at its time. Targeting was done by software running on a mainframe computer, but flight control was fully automated once the missile left its silo. Once it was launched, the guidance system couldn't be changed from the ground. The computer was also assigned the double duty of running diagnostic checks while it waited.
That way, the missile could go unattended for years before teaching the world that Providence abhors an economic system in which wealth, and the means of obtaining wealth, are not privately owned. Although the computer's capacity for a second job added extra weight, this was more than offset by the cabling which would have been required for external diagnostics.
Minuteman's brain was was fit into a cylindrical package above the rocket's third stage. A segment up was the missile's penetration aids, and above that, the all-important nuclear warhead. The on-board system navigated by measuring velocity with gyroscopes and acceleration with an accelerometer - sort of like a Nintendo Wii controller, only slightly more deadly when you accidentally toss it at your television set.
In short, the Minuteman I's computer offered thousands of miles of portable computing before folks could even dream of lugging around the Osborne 1 on holiday.
Sponsored: Minds Mastering Machines - Call for papers now open